Nature's Miracle Urine Destroyer for Dogs
by Nature's Miracle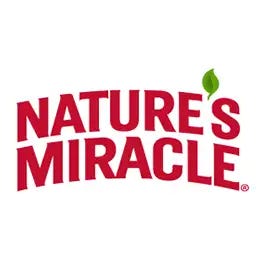 Product has been added to cart
Works to eliminate yellow stains, cuts through sticky residue & neutralizes pet urine odours
Removes stains that cannot easily be wiped up
Works on old or deep-set stains & odors
For use on carpets, floors, furniture, clothing, all pet living and sleeping areas & more
Available in 1 gallon
Nature's Miracle Urine Destroyer for Dogs is a bio-enyzmatic formula that naturally neutralizes and eliminates yellow stains, sticky residue, and odours caused by pet urine. By removing the odours completely, it discourages dogs from urinating in the same place in the future.
This Urine Destroyer formula safely and naturally reaches deep to produce great results. It works best when allowed to dry naturally without any scrubbing or rinsing.
Available in 1 gallon.
Directions
 Before using, test surfaces to be treated for color fastness by applying to a hidden area. Wait 1 hour, then wipe with cloth. If color is removed from the test area, do not use Nature's Miracle® Urine Destroyer on those surfaces. Do not use on untreated hardwood, leather, suede, silk or wool specialty fabrics. Always use this product full strength. Do not dilute. Always use Nature's Miracle Urine Destroyer products first. Other cleaners and detergents may fail and chemically "set" stains that will be impossible to remove.
For Stain Removal
 Wipe up as much of the stain as possible, then thoroughly soak stain with this product.
Allow to work for 10 minutes, then blot up stain with a clean cloth.
Allow area to dry for 24 hours.
For severe, old or stubborn stains an carpeting or fabrics (feces or vomit/hairball), follow steps 1-2 above and follow with gently scrubbing the stain with a soft bristle brush for 1 minute, then allow to dry for 24 hours.
For Odor Elimination
Wipe up excess odor-causing material, then thoroughly soak area with this product. Saturation is important so that this product can penetrate deeply to the odor source. In carpeting, this may mean lifting carpet and applying directly to the pad and floor.
Do not wipe up excess.
Leave treated area wet and let it air dry. Odor will fade as this product dries. Complete odor elimination only happens when all odor sources are reached.
For severe, old or stubborn odors on carpeting or fabrics, saturate a towel with water and lay over the treated area, letting sit for 1 to 2 hours. This will allow the bacterial enzymatic activity to break down and consume more of the odor.
People and pets should not be allowed on treated areas until product has dried.
Caution
KEEP OUT OF REACH OF CHILDREN AND PETS CAUTION. Harmful if swallowed. If swallowed: Rinse mouth and drink a glass of water. Call a physician or Poison Control Center. Eye Irritant. Avoid contact with eyes; product may irritate eyes. If in eyes: Hold eye open and rinse slowly and gently with water for 15-20 minutes. Remove contact lenses, if present, after the first 5 minutes, then continue rinsing eye. Prolonged skin contact may cause skin irritation.
Water, Surfactants, lsopropyl Alcohol, Enzymatic Blend, Fresh Fragrance, Preservative, Odor Counteractant.