Nature's Miracle Stain & Odor Remover
by Nature's Miracle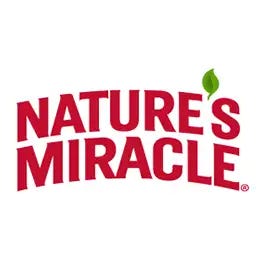 List Price:
$20.99
Starting From:
$16.99
You Save:
$4.00 (19%)
Product has been added to cart
Removes urine, feces, drool, vomit, and other pet messes
Begins to breakdown and remove stains immediately
Removes stains that cannot easily be wiped up, and works on old or deep-set stains and odors
For use on carpets, floors, furniture, clothing, cages, litter boxes, and all pet living and sleeping areas
Available in 946 mL (32 fl. oz.) and 3.78 L (1 gallon)
Nature's Miracle Stain & Odor Remover is guaranteed to permanently eliminate all stains & odours. It is effective in removing all organic stains and odours, including food, blood, vomit, feces, grease, dirt, grass, smoke, and perspiration.
This Stain & Odor Remover uses a bio-enzymatic formula to safely and naturally not just cover up, but eliminate unwanted stains and odours. It is deep reaching and is most effective when allowed to dry naturally without interference.
Available in 946 mL (32 fl. oz.) and 3.78 L (1 gallon).
Directions
Stain Removal:
Wipe away any excess stain-causing material, and then soak the surface thoroughly with Nature's Miracle Stain and Odor Remover.
Wait 5 minutes, and then wipe away stain with a cloth. For tough stains, use a stiff, bristle brush.
If the stain is not completely removed, re-soak area and allow Nature's Miracle Stain and Odor Remover to work for 1 hour before wiping with a cloth.
Odor Elimination:
Thoroughly soak the entire area with Nature's Miracle Stain and Odor Remover. For carpets, apply enough to reach the urine penetration in the pad and floor. This may mean lifting the carpet and applying directly to the pad and floor.
Allow the product to air dry. Depending on air circulation, carpets and upholstery may take up to 2 weeks to dry completely.
If after 2 weeks there is still an odor, Nature's Miracle Stain and Odor Remover has not reached ALL of the odor-causing material. Pinpoint odor source and repeat cleaning process.
Keep the product away from children and pets and do not allow pets onto the treated area until it is completely dried.
Laundry:
Saturate areas of fabric affected by stain and odor with full-strength product, then wash as usual.
Caution
KEEP OUT OF REACH OF CHILDREN AND PETS CAUTION.
Harmful if swallowed. If swallowed: Rinse mouth and drink a glass of water. Call a physician or Poison Control Center. Eye Irritant. Avoid contact with eyes; product may irritate eyes. If in eyes: Hold eye open and rinse slowly and gently with water for 15-20 minutes. Remove contact lenses, if present, after the first 5 minutes, then continue rinsing eye. Prolonged skin contact may cause skin irritation.
Water, Isopropyl Alcohol, Surfactants, Citrus Fragrance, Enzymatic Blend and Odor Counteractant.