Pet-Tek Pet Deodorizer Supplement for Pets
by Pet-Tek
Product has been added to cart
Combats odours from breath, body, and fecal matter
Removes odour-producing toxins and cleanses liver
Cleanses intestines and reduces amount of gas produced
Regulates blood pressure and immune system
Anti-fungal, anti-bacterial, and anti-inflammatory
Faster healing of wounds with minimal scarring
Available 60 ml (2 oz.) - 30 doses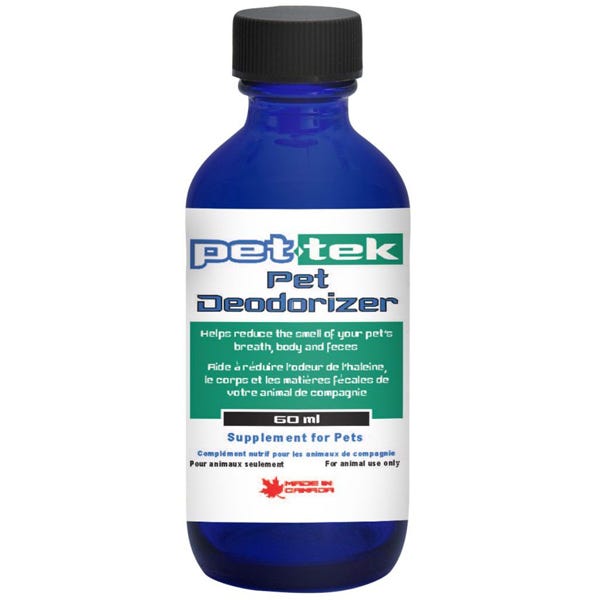 Does your pet seem to be particularly smelly? Pet-Tek Pet Deodorizer Supplement for Pets helps reduce bad odours coming from breath, fecal matter, and other parts of the body. This formula combats odours by removing the toxins that produce them; meanwhile, cleansing the liver, which processes these toxins. Chlorophyll, the single ingredient, will also cleanse the intestines and decrease the amount of gas that your pet produces.
This supplement regulates blood pressure and acts as an immune system stabilizer. It prevents and treats bacterial and fungal conditions and reduces inflammation in your pet's body. It can also be used to treat peptic ulcers, sinusitis, build-up of fluid, and skin rashes. Safe for virtually any part of the body, Pet Deodorizer will bring faster healing with minimal scarring. Safe for dogs and cats.
Suggested Use:
Add directly to your pet's water dish. Use dose recommendations found on the bottle.
Caution:
Avoid contact with fabrics and other objects to prevent staining. This product is very concentrated.