NaturPet Be Calm for Cats and Dogs
by NaturPet
List Price:
$38.99
Our Price:
$33.49
You Save:
$5.50 (14%)
Product has been added to cart
All-natural herbal extract
Vet approved treatment
Gentle anti-depressant
Provides comfort and acts as a calming aid for your pet
Includes easy-to-use dropper
Available in a 100ml (3.3 Fl. Oz.) bottle
Made in Canada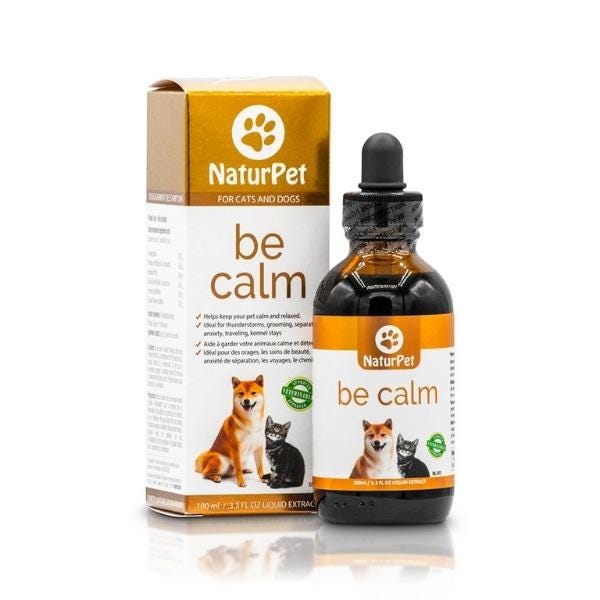 NaturPet Be Calm is an all-natural herbal extract designed for pets that get anxious or upset when left at home alone. Ingredients such as Valerian root, Black Cohosh, Lemon Balm and Passionflower, help calm and soothe pets that are feeling anxious, stressed or upset during situations that can be uncomfortable for your pet (travelling, separation anxiety, vet visit, thunderstorms, among others).
This product is available in a 100 ml (3.3 Fl. Oz.) bottle with a dropper. Made in Canada. Please see the specification tab for more information about this product.
Dosage Guide
| | | | | |
| --- | --- | --- | --- | --- |
| Weight | 0-25 lb | 26-50 lb | 51-75 lb | 75 lb+ |
| Dose | 0.5 ml | 1.0 ml | 1.5 ml | 2.0 ml |
Directions
Administer orally, twice a day. Based on your pet's weight, select the appropriate dose from the above chart. Use the dropper to place the dose directly into the pet's mouth or mix it with food.
Cautions
Unless directed by a veterinarian: do not use in animals receiving other drugs; not for long-term use. Do not use in animals with kidney, liver, or thyroid disease. Do not use in immature, pregnant or lactating animals.
Active Ingredients: Ashwagandha, Valerian Root, Horsetail, Black Cohosh, Lemon Balm, Passionflower.
Inactive Ingredients: Purified Water, Alcohol, Glycerin.