Kurgo Core Cooling Vest for Dogs
by Kurgo
List Price:
$79.99
Starting From:
$70.99
You Save:
$9.00 (11%)
Product has been added to cart
Lightweight cooling vest
Made with a combination of polyester with an air mesh inner lining
Helps maintain your dog's body temperature during hot days
Uses the evaporative cooling method - pour water and go
Light blue colouring helps reflect the heat from the sun
Adjustable buckles with a reversible zipper - Allows access to a harness or collar
Machine washable
Available in small, medium and large sizes
The Kurgo Core Cooling Vest is a lightweight, athletic design vest that helps your furry friend regulate his body heat during those hot summer days. This vest uses an evaporative design, simply soak the vest with cold water, wring it out, and place it on your dog— as the water evaporates it reduces your dog's body heat is released with the evaporation, making those hot days more comfortable. The light blue colour used on the outer layer of the vest will also help regulate body heat as this pastel colour help reflect heat from the sun. Located on the sides of the vest are adjustable buckles to ensure a proper fit and on the back is a reversible zipper for secure leash attachment to either a collar or harness. The Kurgo Core Cooling Vest is machine washable and is available in a small, medium and large size; Please see the specifications tab for more information. 
Sizing Chart
| | | | |
| --- | --- | --- | --- |
| Vest Size | Neck Size | Chest Size | Length |
| Small | 41 cm (16") | 46-71 cm (18-28") | 34 cm (13.25") |
| Medium | 48 cm (19") | 66-89 cm (26-35") | 50 cm (19.75") |
| Large | 58 cm (23") | 76-99 cm (30-39") | 57 cm (22.5") |
| X-Large | 66 cm (26") | 89-114 cm (35-45") | 69 cm (27") |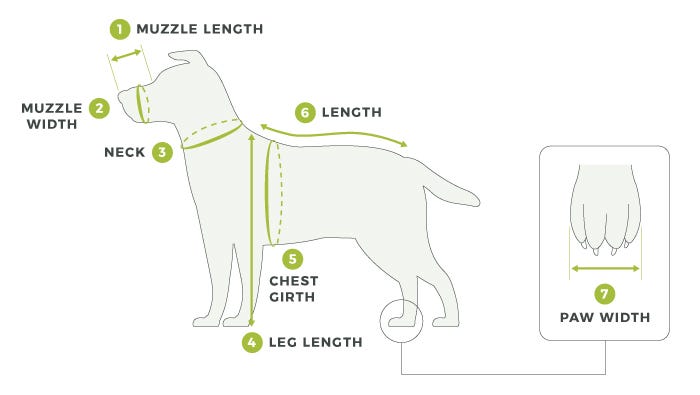 How to Measure Your Dog
Muzzle Length
Measure the length of the nose from the tip to the crook where you want the muzzle to sit comfortable below the eyes.
Muzzle Width
Measure the circumference of the muzzle at the widest part, leaving space for two fingers to ensure a comfortable fit.
Neck
Measure the circumference of the base, leaving enough space to comfortably fit two fingers.
Leg Length
Measure your dog from the top of the shoulder and hip to the floor.
Chest Girth
Measure the circumference of the widest part of the chest behind the front legs.
Length
Measure the length from the top of their shoulders to the base of their tail.
Paw Width
Measure the diameter of the widest park of the paw.
Washing Instructions
Please machine wash cooling vest on gentle cycle or hand wash the product, hang to dry.
Caution
Please still use caution while outside during hot summer days, always keep water available at all times for yourself and your best friend, take shade when needed. Never leave your doggo inside a vehicle while it is not running.