Outward Hound Nina Ottosson Dog Brick
by Outward Hound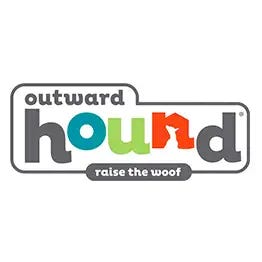 List Price:
$40.99
Our Price:
$28.04
You Save:
$12.95 (32%)
Product has been added to cart
sliding puzzle with fifteen treat compartments
Great for stimulation and decrease boredom
Fits kibble or small dog treats
Made with food-grade plastic, free of PVC, BPA & phthalates
Suitable for all dog breeds
The Outward Hound Nina Ottosson Dog Brick is a puzzle toy that will challenge your dog's puzzle skills. This toy has fifteen compartments and uses multiple obstacles that can prevent your dog from getting to the treats. 
Once you fill the compartments with treats, he or she must first remove the bone blocks to get to the first four treat compartments, then flip open the red compartments for more treats and finally slide those compartments to finally reveal the last hidden pockets. This toy offers a variety of difficulty levels and gives you the option of using all of the compartments of few to get your dog to track the treats down by smell. Not only does this encourages your dog to solve the obstacle, but it also helps mentally stimulate your best friend and prevent boredom. This puzzle works great with kibble and small-sized treats.
This food-grade plastic puzzle is free of all BPA, PVC, and phthalates. Suitable all dog breeds, please see the specifications tab for more information. 
Dog Smart Measurements
Diameter: 27 cm (10.6") Height: 3.5 cm (1.3")
Please supervise your dog at all times with this toy and inspect before and after use, if any parts become damaged or separated, please replace toy. Once your dog is done with the puzzle, high five, praise your best friend, then remove toy away until it is time to use it again. If it is your dog's first time using the toy you will have to show them how it works, it is recommended that you show how the toy work by tilting the bones up along an edge, leave compartments open and use tasty, smelly treats like cheese, soft chews or peanut butter to help with the learning process. 
Nina Ottosson interactive dog toys can be cleaned using warm running water and mild soap, please rinse thoroughly.