Citrobug Insect Hunt for Dog and Horses Spray
by Citrobug
Product has been added to cart
All-natural spray - protects from mosquitoes, flies, ticks and more
Made from essential oils such as camphor, pine needles and geranium
Uses no deet, paraben or harmful ingredients - 100% natural ingredients
Suitable for all dog breeds and horses - Not suitable for cats or other animals
Available for 122 ml and 1-litre bottles
Made in Quebec, Canada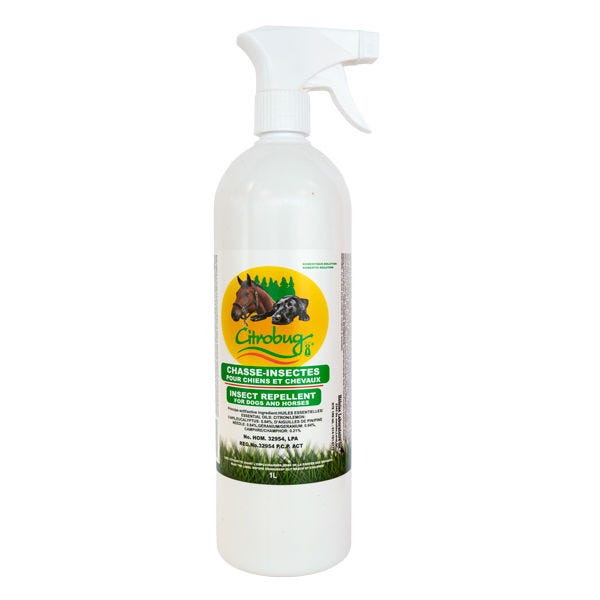 Citrobug Insect Hunt is a spray bottle containing 100% natural ingredients that protect your best friend from mosquitoes, flies, ticks, stable flies, horn flies, facial flies and much more pesky bugs — using essential oils such as camphor, pine needles, geranium and lemon without the use of deet, paraben or other harmful ingredients that are harmful to both humans and pets. 
Citrobug Insect Hunt is suitable for dogs of all breeds and horses of all shapes and sizes - this product is not suitable for cats or other animals, available in 122 ml and 1-litre bottles; Please see the specifications tab for more information. Made in Quebec, Canada.
Directions
Please use only on dog and horses outside, spray a thin layer on the entire body of dog or horse about 30 cm (one foot) away from the animal. The spray will repel insects for up to two hours, do not go over two sprays per day. 
Do not use on dogs or horses 12 weeks or younger, speak to your veterinarian before use if your dog or horse is pregnant, sick, old, nursing, are on medication or being treated with a pesticide. Avoid contact with eyes, if your dog or horse starts to show signs of an allergic reaction discontinue use and bathe with a mixture of gentle soap and water, then rinse pet off with plenty of water. If the reaction continues, please seek veterinary assistance immediately and bring a spray bottle with to the vet. 
For Humans: Keep out of reach of children, avoid contact with eyes, mouth, open sores and face. If swallowed, please contact poison control or doctor for treatment advice. Do not induce vomiting unless recommended by poison control or doctor, do not give liquids or if unconscious do not offer anything to mouth. If contact with eye slowly and gently rinse with water for 15-20 minutes, remove contacts if present, then continue rinsing eye. Contact poison control or doctor for treatment advice, when seeking medical attention take the spray bottle with you. 
Active Ingredients: Lemon: 0.64%, Eucalyptus: 0.64%, Pine Needle: 0.64%, Geranium: 0.64%, Champhor: 0.21%