Ruffwear Top Rope Collar for Dogs
by Ruffwear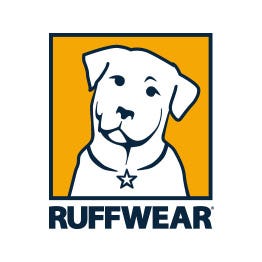 Product has been added to cart
Highly durable dog collar
Made from polyester with Ruffwear's Tubelock webbing with anodised aluminium and stainless steel talon buckle
Aluminium V-ring attachment for a secure leash attatchment
Stainless steel quick ring and a silicone tag silencer
Built-in reflective material
Suitable for small to large-sized dog breeds
Available in a variety of sizes and four colours
Ruffwear Top Rope Dog Collar is a highly durable collar crafted with polyester and Ruffwear's Tubelock webbing with anodised aluminium and stainless steel talon buckle that keeps the collar positioned keeping the V-ring always at the back of the dog's neck. Located on the collar is an aluminium V-ring for secure leash attatchment as well as a stainless steel quick ring ID tag holder with a silicone built-in tag silencer allowing easy switching of tags. Stitched along the collar is reflective material for added safety during night time activities. 
Ruffwear Top Rope is designed for everyday activities and is ideal for small to large dog breeds. Available in three different sizes and four different colours; please see the specifications tab for more information. 
Explore Ruffwear's line of collars, harnesses, seasonal gear and other gear for the adventure ahead here. 
Sizing Chart
| | |
| --- | --- |
| Size | Measurements |
| Small | 28-36 cm (11-14") x 20 MM (3/4") Width |
| Medium | 36-51 cm (14-20") x 25 MM (1") Width |
| Large | 51-66 cm (20-26") x 25 MM (1") WIdth |
How to Measure Your Dog
Muzzle Length
Measure the length of the nose from the tip to the crook where you want the muzzle to sit comfortable below the eyes.
Muzzle Width
Measure the circumference of the muzzle at the widest part, leaving space for two fingers to ensure a comfortable fit.
Neck
Measure the circumference of the base, leaving enough space to comfortably fit two fingers.
Leg Length
Measure your dog from the top of the shoulder and hip to the floor.
Chest Girth
Measure the circumference of the widest part of the chest behind the front legs.
Length
Measure the length from the top of their shoulders to the base of their tail.
Paw Width
Measure the diameter of the widest park of the paw.
Washing Instructions
Please hand wash collar using a mild detergent and hang dry.