List Price:
$110.00
Starting From:
$99.99
You Save:
$10.01 (9%)
Product has been added to cart
Water-resistant winter boots for dogs
Sturdy sole that provides comfortable traction on snow and ice
Equipped with gaiters and straps to keep snow out
Built-in sock to add warmth and prevent chafing
Smaller sized boots for back paws
Available in a pack of four boots
RC Pets Arctic Boot is a winter boot designed to keep your dog's paws protected from the cold and other harmful materials that can be found on the road during wintertime. These water-resistant boots will keep your dog's paws protected from the elements thanks to their built-in gaiter, fleece sock-like layer and adjustable straps, while also providing better traction on cold and snowy surfaces. Reflective material on the front of the boot will let your dog be seen in low light conditions.
This product is available in a set of four boots, two of which are smaller for a better fit on the back paws that tend to be smaller in size compared to the front paws. Please see the specifications tab for more information.
Sizing Chart
| | | |
| --- | --- | --- |
| Size | Measurement - Back | Measurement - Front |
| X-Small | 4.45 cm (1.75") | 5.08 cm (2") |
| Small | 5.08 cm (2") | 6.35 cm (2.5") |
| Medium | 6.35 cm (2.5") | 7.00 cm (2.75") |
| Large | 7.00 cm (2.75") | 7.60 cm (3") |
| X-Large | 7.60 cm (3") | 8.26 cm (3.25") |
To Measure Your Dog's Paws
Place dog's front paw, standing up with full weight on a blank piece of paper on top of a hard surface. Mark from the longest toe nail and come straight back down from the back of the paw to make a second marking. Measure the distance between the two markings and refer to the sizing chart above.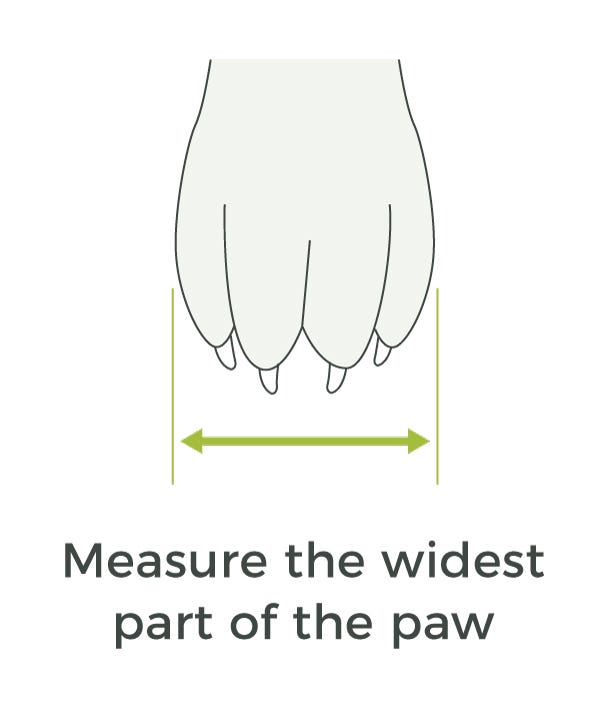 Sizing Tips
Choose size which fits dog's entire paw, including toe nails. A snug fit is best. Boots that are too large may slip off.