Pawtanical Sniff & Shake Nose & Paw Balm
by Pawtanical
Product has been added to cart
All-natural nose & paw balm - non-greasy
Uses cold-pressed hemp seed oil, shea butter, calendula herbal oil and more
Formulated to help with dry, cracked nose and paw and irritation caused by hot spots and dryness
Suitable for dogs
Packaged in a 25% Hemp Bioplastic Packaging
Available in a 50 g container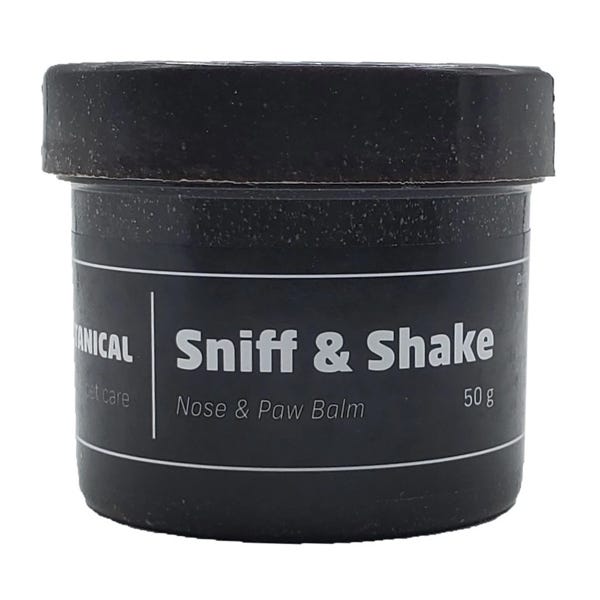 Pawtanical Sniff & Shake Nose & Paw Balm is a non-greasy, natural balm that will help keep your dog's nose and paw soft and healthy. This balm is formulated with locally sourced cold-pressed hemp seed oil, calendula herbal oil, shea butter, coconut oil and essential oils such as lavender, cedarwood, peppermint and more. Natural ingredients that can help prevent and soothe dry, cracked nose and paws and irritation caused by hot spots and dryness.
Suitable for dogs, Sniff & Shake is packaged in a 25% Hemp Bioplastic packaging and is available in a 50 g container. 
How to Apply
Apply balm onto one or two fingers and rub the balm onto your dog's nose, paw or hot spots in a circular motion. Apply once more as needed.
Applying the product before an activity such as a walk or playtime is recommended to prevent your dog from licking the balm off and ensuring it stays on longer. 
Cannabis sativa (Hemp) Seed Oil, Cocos Nucifera (Coconut) Oil, Euphorbia Cerifera (Candelilla) Wax, Soybean Wax, Butyrospermum Parkii (Shea Butter) Fruit, Mangifera indica (Mango) Seed Butter, Tocopherol, Modified Tapioca Starch, HempBead Technology, Calendula officinalis Herbal Oil, Lavandula officinalis (Lavender) Essential Oil, Juniperus ashei (Texas Cedarwood) Essential Oil, Mentha piperita (Peppermint) Essential Oil.