WellyTails Daily Joint & Wellbeing Supplement for Dogs
by WellyTails
List Price:
$40.99
Starting From:
$38.99
You Save:
$2.00 (5%)
Product has been added to cart
Made in Canada
Supports healthy joints, cartilage & connective tissues
Great for preventative care as well as reducing joint pain & increasing mobility
Excellent source of Glucosamine, Chondroitin, MSM & much more
Works to boost immune system, maintain healthy skin & coat
Delicious beef liver flavour
Suitable for dog of all breeds and life stages
Available in 30 oz. & 5 lb. packages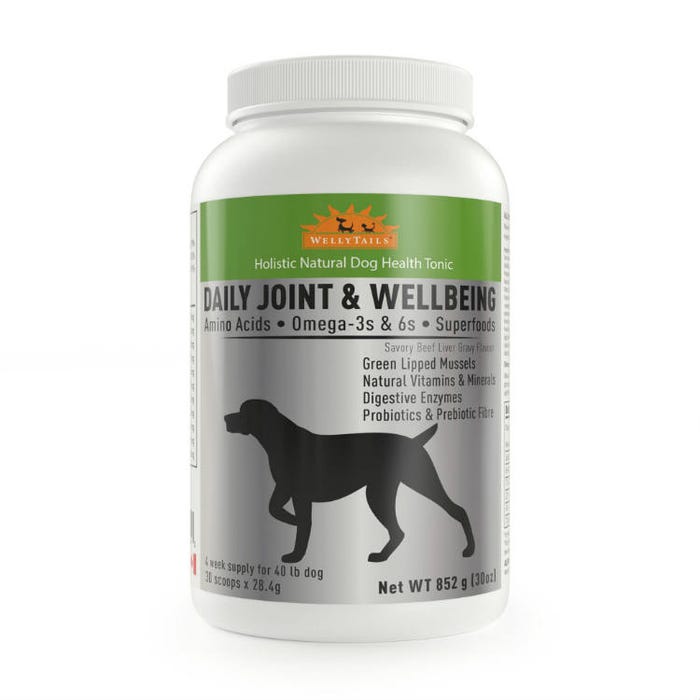 WellyTails Daily Joint & Wellbeing Supplement for Dogs is an effective, safe, Canadian supplement that supports dogs' joints and overall health. With a rich combination glucosamine, chondroitin sulphate, MSM, and turmeric, this powder works to keep your dog's joints healthy and strong by working to maintain the cartilage, connective tissues, and collagen. It can be used as a preventative measure as well as to help reduce already existing stiffness or pain and increase mobility. Along with these benefits, Joint & Wellbeing Supplement is a source of many natural vitamins, minerals, prebiotics and probiotics, Atlantic sea kelp, golden flaxseed, bee pollen, and a host of other beneficial ingredients which work to boost your dog's immune system, skin and coat, and overall health.
This supplement is flavoured with beef liver powder and can be sprinkled directly onto your dog's food or mixed with water to make a delicious beef "gravy" to make it more appealing. It is suitable for dogs of all breeds and life stages but is particularly helpful for puppies of breeds that are prone to developing joint issues with age as well as adult dogs that experience moderate joint pain, stiffness, or mobility problems. Made in Canada. Available in 852 g (30 oz.) container and a 2.27 kg (5 lb) box.
Guaranteed Analysis
| | |
| --- | --- |
| Crude Protein (min) | 23%  |
| Crude Fat (min) | 14.6%  |
| Moisture (max) | 12%  |
| Ash (max) | 12.7% |
| Calcium | 1.79% |
| Phosphorous | 0.52% |
| Sodium | 0.91% |
| Golden Flaxseed | 8,070 mg |
| Norwegian Kelp | 5,062 mg |
| Glucosamine HCI | 750 mg |
| Chondroitin Sulphate | 427 mg |
| MSM (Methylsulfonylmethane) | 570 mg |
| NZ Green Lipped Mussels | 427 mg |
| ALA Omega-3 | 1,207 mg |
| DHA Omega-3 | 112 mg |
| GLA Omega-6 | 41 mg |
| Taurine | 127 mg |
| Turmeric Root | 188 mg |
Directions for Use:
Mix 2 Tbsp. of cold water with each scoop of WellyTails Daily Joint & Wellbeing Supplement to make a tasty gravy or sprinkle it directly onto your dog's food. For best results, divide the daily dose between morning and evening meals. Store in a cool, dark place.
Daily Product Dosage Rates
Dog Weight (lbs)
Number of 1 oz./28.4 g scoops = 3 Tbsp. (scoop included)
First 60-90 days*
Ongoing Maintenance
Number of Days Package Will Last
Less than 5
1/4
1/8
120
6 - 10
1/3
1/5
90
11 - 20
1/2
1/4
60
21 - 40
1
1/2
30
41 - 70
1-1/2
3/4
20
71+
2
1
15
*Introduce WellyTails Daily Joint & Wellbeing Supplement to your dog slowly by feeding half of the recommended amount in the first column for the first 5 days. After the initial period of 60 - 90 days or once the desirable results have been reached, continue use for ongoing maintenance. 
Cold Milled Golden Flaxseed, Norwegian Atlantic Sea kelp, Sprouted Green Lentils, Saccharomyces cerevisiae, Nutritional Yeast, Air Dried Beef Liver, Glucosamine Hydrochloride (shellfish source), MSM (Methylsulfonylmethane), Marine Algae (source of DHA Omega-3), Proprietary Probiotic Bacteria Blend (Lactobacillus acidophilus, Lactobacillus casei, Enteroccocus faecium, Bifidobacterium thermophilum), Short-chain fructooligosaccharide (all-natural prebiotic fibre), Chondroitin Sulphate, New Zealand Freeze Dried Green Lipped Mussels, Sweet Potato, Fungal and Plant Source Digestive Enzyme Blend (Protease - Bacillus liceniformis; alpha-Amylase-aspergillus oryza, alpha-Glactosidase - Aspergillus niger, Lipase - Rhizopus oryzae; Bromelaine - pineapple stem fruit, Cellulase - Aspergillus niger; Hemicellulase - Aspergillus aculeatus, Whole Dried Papaya Fruit Papain), MSM (Methylsulfonylmethane), Borage Seed Oil, Whole Turmeric Root Powder, Sunflower, Lecithin, Ascorbic Acid (Vitamin C source), Blueberry Powder (not pomace), Egg Shell Powder (source of Calcium), Taurine, Zinc Amino Acid Complex, Bee Pollen, Organic Spirulina, Mixed Natural Tocopherols (Vitamin E used as a natural antioxidant), Rosemary Oil Extract (used as a natural antioxidant), Selenium Yeast.