Orijen Freeze Dried Treats - Regional Red
by Orijen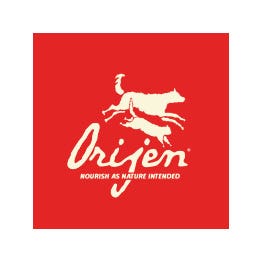 Product has been added to cart
Biologically appropriate formula - Mirrors natural diet
100% fresh meat from Angus beef, Romney lamb, wild boar & Yorkshire pork - Never outsourced 
40% Protein content
Gently freeze-dried - Locks nutrients and flavour
Fresh and preservative free - All-natural ingredients
Protein rich and low glycemic
Ideal for training or daily, healthy treat
Available in 1.5 oz (currently unavailable) and 3.25 oz bags
Made in the USA
Orijen Regional Red Freeze Dried Treats offer a biologically appropriate, whole prey reward that imitates your dog's natural diet. This treat is made with 100% ranch-raised bison, wild boar, and grass-fed lamb. All freeze dried to maintain the benefits and flavour of raw food with the convenience of dry treats. To sum it up, these are high-quality treats - 100% pure and natural, proudly made in Orijen's very own kitchen in the USA.
Sizes:
42.5 g / 1.5 oz (currently unavailable)
90 g / 3.25 oz
Guaranteed Analysis
Crude Protein
Min. 40%
Fat Content
Min. 40%
Moisture
Max. 2%
Calorie Content 5540 kcal/kg or 6 kcal/treat

Feeding Guidelines
Just remember that treats should make up no more than 10% of your dogs daily calorie intake to make sure that your dog maintains a healthy weight.
Raw beef liver (18%), raw lamb liver (15.1%), raw wild boar liver (14%), raw goat (12%), raw wild boar (10%), raw lamb (10%), raw goat liver (7%), raw beef (6%), raw goat kidney (2.5%), raw goat tripe (2.5%), raw beef kidney (1%), raw beef tripe (1%), raw lamb kidney (0.4%), raw lamb tripe (0.4%)