Product has been added to cart
Frozen raw dinner for dogs and cats
Single protein - pork including the bone and organs
Contains no fillers, preservatives or additives
Can be a complete meal for cats, dogs will need additional fruits, vegetables and supplements to be a complete meal
Available in a 6 lb box - In-store only
Sourced and made in Canada
In Store Only
Made in Canada
In Store Only
Made in Canada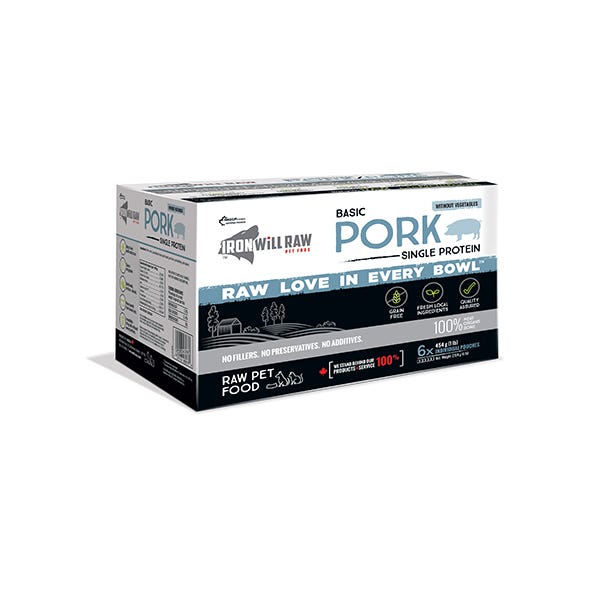 Iron Will Raw Pet Food Basic Meals uses the highest quality of protein sourced from Canada. The Basic Pork uses only pork as its main protein, including the heart, liver, kidney, spleen and grounded up bone without the need for fillers, preservatives or additives. 
This meal can be a complete meal for cats but will need additional fruits, vegetables, and supplements to be a complete meal for dogs. Please see the specifications tab for more information; Iron Will Raw Pet Food Basic Pork is available in a 6 lb box containing six one-pound pouches and is available only in-store. For our store locations, please click here. 
New to raw? Check out our informative blogs about the benefits of raw dog food here and other blog posts about your best friend or feline friend here.
Guaranteed Analysis
For 100 g
Crude Protein (min.)
22.35%
Crude Fat (min.)
15.06%
Crude Fibre (max.)
0.01%
Moisture (max.)
61.17%
Ash
2.10%
Taurine
25.42 mg/oz*
Calcium
0.29%
Phosphorus
0.29%
Ca:P
1:1
Magnesium
0.02%
Potassium
0.24%
Sodium
0.06%
Sulphur
0.20%
Copper
10.07 mg/kg
Iron
43.12 mg/kg
Manganese
0.64 mg/kg
Zinc
24.08 mg/kg
Gross Energy
2661.71 kcal/kg
Metabolizable Energy
2426.49 kcal/kg
*For cats, it is 35-250 mg/day for their daily recommendation
Feeding Guidelines
The guideline is based on the percentage of your pet's current weight (lbs) per day.
| | |
| --- | --- |
| Overweight | 1.5% |
| Ideal Weight | 2-3 % |
| Underweight | 3% |
Serving & Handling
Make sure raw products stay in the freezer until it is time to use. For defrosting, pull out the portion and place it in the refrigerator overnight; any unused portion can be stored in the refrigerator for up to three days. 
When handling raw products, always use clean bowls and utensils while portioning food and clean the used products after feeding with warm, soapy water. 
pork meat, ground pork bone, pork heart, pork liver, pork kidney, pork spleen.