Hurtta Mudventure Overall Eco
by Hurtta
Product has been added to cart
Lightweight & durable raincoat
Covers 90% of your dog's body 
Adjustable waist and chest circumference
Unlined
Closeable harness and leash opening - Keeps the rain out. 
Flexible pant leg openings can be tightened with snap studs
High, protective collar - With rain stopper
Large reflective prints and seams - Great for staying visible on evening walks
Zipper, with a wind foil underneath
Easy to put on & take off 
Available in two colours and in a variety of sizes
Hurtta Mudventure Overall Eco is a lightweight and durable raincoat for your dog. The Mudventure Overall covers 90% of your dog's body, keeping them nice and dry on rainy days, and is unlined so your dog will not overheat. It features an adjustable waist and chest circumference, as well as flexible pant leg openings that can be tightened. The closeable harness and leash opening and high, protective collar, also help to keep the rain out. Additionally, the zipper design makes this overall easy to put on and take off your dog, and the large reflective prints and seams are great for staying visible on evening walks.
You can feel great about purchasing this product as it's made from 100% earth-friendly recycled fabric. Hurtta Mudventure Overall Eco is available in two colours, peacock and cinnamon, and is available in a variety of sizes. Please see the specifications tab to find the best size for your pup and how to care for their new raincoat. 
Sizing Guide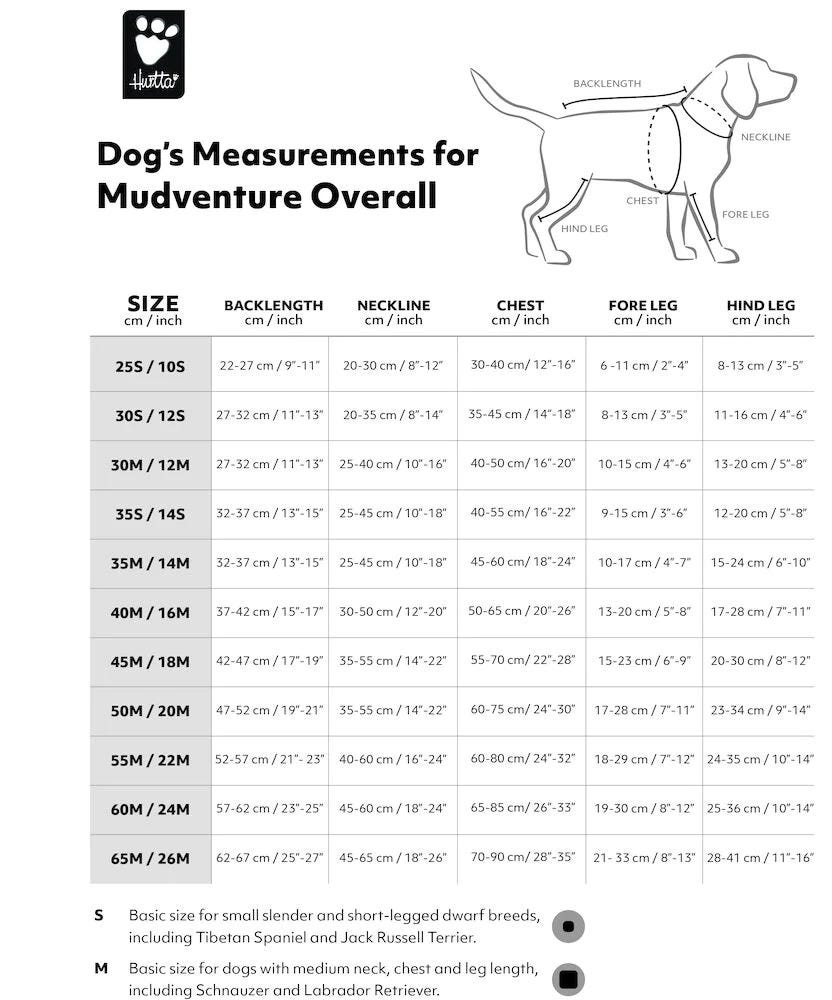 Care Instructions
Machine wash cold on a gentle cycle with the zippers closed and with similar colours. Do not bleach, use fabric softener, tumble dry, iron, or dry clean.