Carna4 Hand Crafted Cat Food - Fish
by Carna4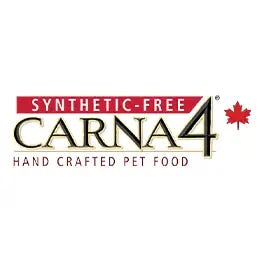 Product has been added to cart
Made with 100% protein - Perch
Mixed with herring and organic vegetables, fruit and kelp
Quick baked and air dried - highly digestible minerals and vitamins 
Grain-friendly, low carb recipe
Supports urinary tract health 
No by-products, meals and no added or synthetic vitamins
Suitable for cat of all life stages and picky eaters
Available in 2 lb and 4 lb bags
Made in Canada Carna4 Hand Crafted Cat Food is a line of cat food that uses wholesome proteins with organic and natural fruits and vegetable to give your best friend the highest quality and nutritional dry kibble. The grain-friendly, low carb fish recipe uses 100% perch, herring, eggs and wholesome organic ingredients such as flaxseeds, sweet potatoes, cranberries, kelp and more. Once mixed, the combination is quickly baked and gently dried, a process that is similar to dehydrating kibble. Ensuring all of the natural minerals and vitamins from each ingredient is sealed into the nuggets. 
Carna4 Fish recipe is rich with essential vitamins and minerals such as vitamin A, D, E, antioxidants, iron, calcium, niacin and much more. Giving your feline a boost in the maintenance and support of muscles, skin, coat, joints, digestion and supports the development of growing kitties. Carna4 uses no by-products, meals, sprayed-on fats and no added or synthetic vitamins and is suitable for cats of all life stages, breeds and picky eaters. Please see the specifications tab for more information. 
Made in Canada, Carna4 Fish recipe is available in 0.9 kg (2 lb) and 1.8 kg (4 lb) bags. 
Guaranteed Analysis
Crude Protein (min)
40.0%
Crude Fat (min)
17.0%
Crude Fibre (max)
4.0%
Moisture (max)
10.0%
Ash (max)
5.1%
Linoleic Acid (min)
2.4%
Phosphorus (min)
1.1%
Calcium (min)
1.4%
Potassium (min)
0.8%
Sodium (min)
0.31%
Magnesium (min)
0.13%
Iron (min)
130 mg/kg
Copper (min)
19 mg/kg
Zinc (min)
195 mg/kg
Vitamin A (min)
14,600 IU/kg
Vitamin D (min)
2,330 IU/kg
Vitamin E (min)
420 IU/kg
Vitamin K (min)
0.76 mg/kg
Thiamine (min)
18 mg/kg
Riboflavin (min)
9.8 mg/kg
Pantothenic Acid (min)
23 mg/kg
Niacin (min)
108 mg/kg
Pyridoxine (min)
9.8 mg/kg
Vitamin B12 (min)
0.16 mg/kg
Folic Acid (min)
1.17 mg/kg
Choline (min)
2,500 mg/kg
EPA + DHA (min)
1.2%
Omega-6 Fatty Acids (min)
3.8%
Omega-3 Fatty Acids (min)
1.9%

Calorie Content: 4420 kcal/kg 409 kcal/cup
Feeding Guide
| | | |
| --- | --- | --- |
| Weight | Kitten | Cat |
| (2 lbs) | 1/2 cup | 1/4 cup |
| (4 lbs) | 2/3 cup | 1/3 cup |
| (7 lbs) | 1 cup | 1/2 cup |
| (10 lbs) | 1 1/3 cup | 2/3 cup |
| (13 lbs) | 1 1/2 cup | 3/4 cup |
| (16 lbs) | two cups | one cups |
Please allow your cats to free-feed throughout the day, refilling the dish to the proper portion each morning. For picky felines, before introducing the food take four nuggets and rub them together. Put away and let your cat smell your hand and pet your cat, do this for about two or three days so your cat can be familiar with the smell and increase the chances your cat will eat this new food.
Herring, perch, eggs, ground organic sprouted barley seed, salmon, ground fava beans, sweet potato, ground organic sprouted flaxseed, ground organic sprouted lentils, ground organic sprouted peas, potato starch, kelp, cranberry, salt, sunflower oil, dried yeast, baking soda.