Acana Pacifica Cat Food
by Acana Pet Foods
Product has been added to cart
Biologically appropriate formula - Fish recipe
75% Wild-caught herring, mackerel, hake, blue whiting, flounder and rockfish
25% Fresh and local fruits & vegetables
Supports skin &coat, digestive, and heart & eye health
Grain-free and high protein 
WholePrey Diet - Includes fish, organs & cartilage
Suitable for cats of all breeds and life stages
Available in a 4 lb (1.8 kg) or 10 lb (4.5 kg) bag
Made in Canada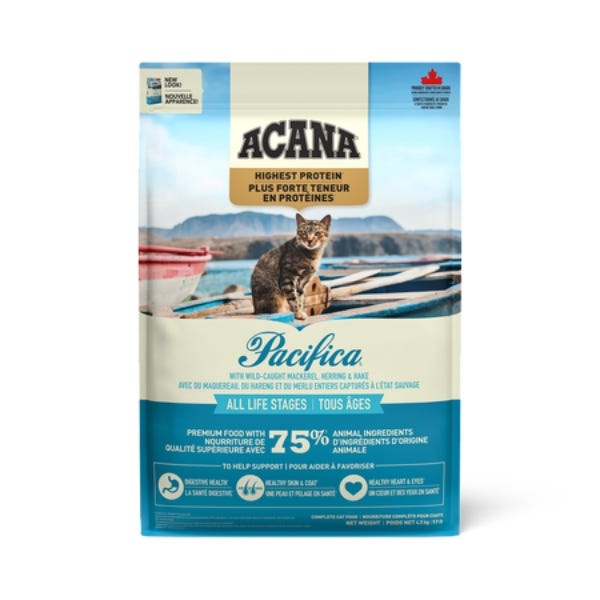 Acana Cat Food takes inspiration and ingredients from Canada's vast and fertile lands providing quality, regional sources always delivered fresh without preservatives and never frozen to your cat's dish. Creating a biologically appropriate, protein-rich formula with various human-grade meats, fruits and vegetables just as nature intended. 
As for Acana Pacifica Cat Food, this grain-free recipe is packed full of protein and is made from 75% small prey animal ingredients, half of those animal ingredients being fresh or raw. There are 6 fish protein varieties including wild-caught Canadian herring, mackerel, hake, blue whiting, flounder and rockfish. Your cat's digestive health will be supported through high-quality protein, fibre, and probiotics. Taurine, EPA, and DHA help to maintain heart and eye health, while the omega fatty acids will make your cat's coat shiny.
This product is suitable for cats of all life stages and breeds. Available in 1.8 kg (4 lb) and 4.5 kg (10 lb) bags.
Guaranteed Analysis
Crude Protein 
37.0%
Fat Content 
18.0%
Crude Fiber
3.0%
Crude Ash
9.0%
Moisture 
10.0%
Calcium
1.4%
Phosphorus 
1.1% 
Magnesium 
0.1%
Taurine 
0.1%
Omega-6 Fatty Acids* 
2.0%
Omega-3 Fatty Acids* 
2.0%
DHA 
0.7%
EPA 
0.6%
Calorie Content: 3,930 kcal/kg, 472 kcal/8 oz cup
*Not recognized as an essential ingredient by the AAFCO nutrient profile for cat food of all life stages.
Feeding Guidelines
Weight of Cat
kg (lb)
Maintenance - Intact (Cups per Day)
Maintenance - Neutered (Cups per Day)
Weight Loss (Cups per Day)
1-2 kg (2-4 lb)
1/4 to 3/8 cup
1/8 to 1/4 cup
---
2-3 kg (4-7 lb)
3/8 to 1/2 cup
1/4 to 1/3 cup
---
3-4 kg (7-9 lb)
1/2 to 5/8 cup
1/3 to 3/8 cup
---
4-5 kg (9-11 lb)
5/8 to 2/3 cup
3/8 to 1/2 cup
---
5-6 kg (11-13 lb)
2/3 to 3/4 cup
1/2 to 5/8 cup
1/2 to 5/8 cup
6-8 kg (13-18 lb)
3/4 to 7/8 cup
5/8 to 7/8 cup
5/8 to 2/3 cup
8-10 kg (18-22 lb)
7/8 to 1 cup
7/8 to 1 cup
2/3 to 3/4 cup
To help maintain freshness. we recommend sealing the bag tightly and storing it in a cool, dry location. This chart is a guide and may differ based on the feeding habits and activity levels of your cat.
Kittens: 
Post-weaning (approximately 5 weeks old): feed 1/4 cup per every kilogram/pound of body weight
Twenty Weeks (Five months): Feed 1/8 cup per kilogram/pound of body weight. 
Fifty-Two Weeks: Start feeding them based on the guidelines above for an adult cat
Gestation:
Increase the daily feeding amount by 25%.
Lactation:
Free feed.
Raw whole herring (16%), raw whole mackerel (12%), raw hake (9%), herring meal (8%), blue whiting meal (8%), mackerel meal (8%), whole pinto beans, whole peas, raw flounder (5%), fish oil (5%), whole red lentils, whole chickpeas, whole green lentils, raw rockfish (4%), sunflower oil, lentil fibre, dried kelp, fresh whole pumpkin, fresh whole butternut squash, fresh whole carrots, fresh whole apples, fresh whole pears, fresh whole zucchini, dried chicory root, fresh kale, fresh spinach, fresh turnip greens, fresh beet greens, whole cranberries, whole blueberries, whole saskatoon berries, turmeric root, milk thistle, burdock root, lavender, marshmallow root, rosehips.
ADDITIVES (per kg): Technological additives: Tocopherol extracts from vegetable oils: 121 mg, citric acid: 40 mg. Sensory additives: Rosemary extract: 80 mg. Nutritional additives: Choline chloride (choline): 1400 mg, Taurine: 400 mg, Zinc proteinate: 160 mg, Copper proteinate: 11 mg, Vitamin B1: 12.5 mg, Vitamin B2: 10 mg, Vitamin B3: 50 mg, Vitamin B5: 8 mg, Vitamin B6: 6.5 mg, Vitamin B9: 0.75 mg, Vitamin B7: 0.13 mg, Vitamin B12: 0.1 mg, Vitamin K3: 0.5 mg, Vitamin A: 3750 IU, Vitamin D3: 500 IU, Vitamin E: 50 IU, Vitamin C: 12.5 mg, DL methionine: 99 mg. Zootechnical additives: Enterococcus faecium DSM 10663/NCIMB 10415: 1 x 10⁹ CFU.