Big Country Raw Bison Dinner Carton for Dogs
by Big Country Raw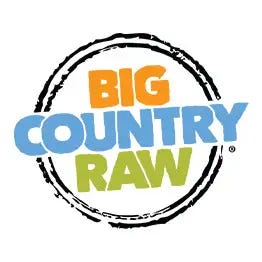 Product has been added to cart
Complete and balanced raw meal for dogs
Uses pasture-raised bison, including organs and grounded up bones
Uses certified organic fruits and vegetables including barley grass, wheatgrass and kelp
Hormone & antibiotic free
Available in a carton containing four one-pound packs
Sourced and Made in Canada - available in-store only
In Store Only
Made in Canada
In Store Only
Made in Canada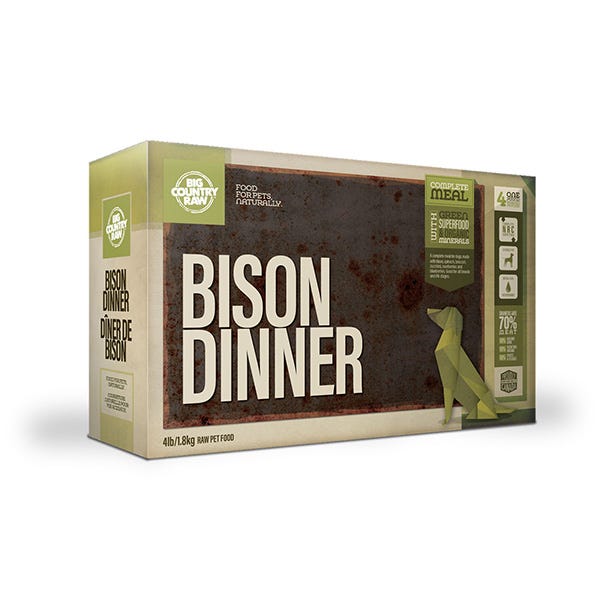 Big Country Raw Bison Dinner is a complete and balanced raw meal using only high-quality ingredients for your best friend, a healthy ratio of 70% muscle meat, 10% organ meat, 10% ground bone and 10% fruits and vegetables. The bison dinner meal contains 100% Canadian-sourced pasture-raised bison, including the organs like the heart, spleen and more with grounded bison bone mixed with certified organic fruits, vegetables like carrots, blueberries, cranberries with kelp, barley grass and wheatgrass. 
This wholesome dinner can be fed as is or supplements such as Herring oil, salmon or hemp seed oil for an additional boost in vitamins, minerals and antioxidants. Each raw meal from Big Country Raw is hormone, antibiotic-free and is 100% sourced and made in Canada. Big Country Raw Bison Dinner Carton contains four one-pound packs and is available only in-store. For our store locations, please click here. 
Guaranteed Analysis
Per 100g as fed
Protein
18.2%
Fat
9.6%
Moisture
68%
Carbohydrates
2.5%
Calcium
0.51%
Phosphorus
0.48%
Calorie Content: 160 kcal
Vitamin and Mineral Content
per 100g as fed
Potassium (g)
0.30
Sodium (g)
0.09
Magnesium (mg)
26.35
Iron (mg)
4.10
Iodine (mcg)
106.69
Copper (mg)
0.53
Manganese (mg)
0.22
Selenium (mcg)
14.40
Zinc (mg)
4.69
Vit A (IU)
1739.84
Thiamine (mg)
0.08
Riboflavin (mg)
0.37
Pantothenic acid (mg)
0.90
Niacin (mg)
4.16
Pyridoxine (mg)
0.27
Cobalamine (mcg)
5.09
Folic Acid (mcg)
34.52
Vitamin E (mg)
9.28
Vitamin D (mcg)
0.90
Linoleic Acid (g)
0.18
Alpha-linolenic Acid (g)
<0.1
Eicosapentaenoic Acid (g)
<0.1
Docosahexaenoic Acid (g)
<0.1
Arachidonic Acid (g)
<0.1
Oleic Acid (g)
4.83
Arginine (g)
1.08
Methionine + Cysteine (g)
1.77
Histidine (g)
0.39
Isoleucine (g)
0.66
Leucine (g)
1.48
Lysine (g)
1.09
Phenylalanine + Tyrosine (g)
1.35
Taurine (g)
0.04
Threonine (g)
0.67
Valine (g)
0.92
Feeding Guidelines
| | |
| --- | --- |
| Weight | Daily Portion Size |
| 10 lbs | 1/5 lb (3 oz/90 g) |
| 25 lbs | 1/2 lb (8 oz/227 g) |
| 50 lbs | 1 lb (16 oz/454 g) |
| 100 lbs | 2 lbs (32 oz/908 g) |
It is recommended when feeding Big Country Raw to separate the portion sizes into two meals and offer three different types of proteins each week. Dogs require 2% raw in their ideal weight per day; your pet's needs may vary. Big Country Raw complete meals meet the National Research Council (NRC) nutritional requirements for dogs of all life stages. 
Serving
Keep raw products in the freezer until it is needed, thaw the pack of raw in the fridge for 24 hours. When ready for mealtime, peel the corner of the packaging, portion out and add additional supplements like hemp oil, fish oil or other supplements for your best friend and get your dog excited for mealtime!!!! 
Any unused portions, please cover and placed in the refrigerator and use the pack of raw within three days of thawing. Always wash hands before and after dealing with raw food and clean used utensils, bowl, weight scales and countertops with hot soapy water.
Buffalo meat, bison meat, ground bison bone, bison heart, bison liver, bison spleen, bison kidney, apples, carrots, spinach, blueberries, cranberries, barley grass, wheatgrass, kelp