Outward Hound Nina Ottosson Wobble Bowl Interactive Treat Puzzle Toy
by Outward Hound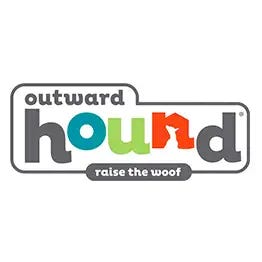 List Price:
$46.49
Our Price:
$33.29
You Save:
$13.20 (28%)
Product has been added to cart
wobbling puzzle with interior maze and four exits
Great for stimulation, decrease boredom and as a slow feeder
Fits kibble or small dog treats - up to one cup
non-slip bottom
Made with food-grade plastic, free of PVC, BPA & phthalates
Suitable for all dog breeds
The Outward Hound Nina Ottosson Wobble Bowl is a puzzle toy that will challenge your dog's skills of tipping and moving things around. This toy has four exits and a simple interior maze that prevents your dog from getting to the treats. 
Once you fill the wobble toy with goodies by removing the plug from the top, filling and then putting the plug back in. Your dog has to use their paws, snout and nose to push, pull and nudge the treats through the maze and into one of four exits. The clear lid around the maze allows your dog to see the treats and encourages your dog to solve the puzzle; the non-slip bottom prevents scuffs on non-carpeted flooring. This toy will aid with but keeping your dog mentally stimulated, prevent boredom and can be used as a slow feeder. This puzzle works excellent with kibble, and small to medium-sized treats can hold up to one cup of food.
This food-grade plastic puzzle is free of all BPA, PVC, and phthalates. Suitable all dog breeds and great as an introduction puzzle toy, please see the specifications tab for more information. 
Wobble Bowl Measurements
29x29x8.8 cm (11.6x11.6x3.5")
Please supervise your dog at all times with this toy and inspect before and after use. If any parts become damaged or separated, please replace the toy. Once your dog is done with the puzzle, high five, praise your best friend, then remove the toy away until it is time to use it again.
If it is your dog's first time using the toy, you will have to show them how it works. It's recommended that you show how the toy work by visually showing your dog that you are putting treats into the toy, placing some treats at the exit for an immediate reward and how to wobble the bowl around. If your dog needs encouragement, use tasty, smelly treats like cheese to help with the learning process. 
Nina Ottosson interactive dog toys can be cleaned using warm running water and mild soap, please remove the clear lid first then rinse thoroughly.