Ruffwear Front Range Harness
by Ruffwear
List Price:
$54.00
Starting From:
$53.99
You Save:
$0.01 (0%)
Product has been added to cart
Lightweight Dog Harness
Four adjustable points for a fully customisable fit
Two leash attatchment locations - V-ring and a reinforced front chest loop
Padded chest and belly - helps evenly balance weight
Reflective trim for visibility and a light loop to attach The Ruffwear Beacon Light
Perfect for everyday activities 
Available in a variety of sizes and six different colours
The Front Range Harness from Ruffwear is a lightweight harness that is great for everyday outdoor activities, whether that is walking in the city or on a rugged trail. Made from polyester lining and webbing with closed-cell foam, this harness offers four adjustable points to allow you to customise the harness to your dog's unique shape. Located on the back of the harness is a V-ring to attach a leash or for a no-pull solution there is a reinforced webbed chest loop at the front to attach the leash. Inside of the harness is padding for the chest and belly to help distribute weight and added comfort.
Located on the top of the harness is an ID pocket to store additional identification or a poop bag as well as a light loop to attach The Beacon. Additionally, there is reflective material used along with the trim for added safety at night.
The Front Range Harness is available in a variety of different sizes and six colours; Please see the specifications tab for more information. This harness is excellent to match with Ruffwear's Front Range Leash.
Explore Ruffwear's line of collars, harnesses, seasonal gear and other gear for the adventure ahead here. 
Sizing Chart
| | |
| --- | --- |
| Girth | Size |
| 33-43 cm (13-17") | XXS |
| 43-56 cm (17-22") | XS |
| 56-69 cm (22-27") | S |
| 69-81 cm (27-32") | M |
| 81-107 cm (32-42") | L/XL |
It is recommended to stick with the girth measurements; if your dog is in between sizes it is recommended to pick the larger size.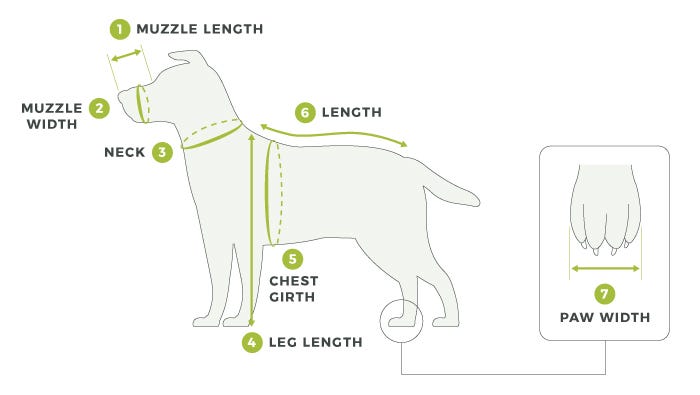 How to Measure Your Dog
Muzzle Length
Measure the length of the nose from the tip to the crook where you want the muzzle to sit comfortable below the eyes.
Muzzle Width
Measure the circumference of the muzzle at the widest part, leaving space for two fingers to ensure a comfortable fit.
Neck
Measure the circumference of the base, leaving enough space to comfortably fit two fingers.
Leg Length
Measure your dog from the top of the shoulder and hip to the floor.
Chest Girth
Measure the circumference of the widest part of the chest behind the front legs.
Length
Measure the length from the top of their shoulders to the base of their tail.
Paw Width
Measure the diameter of the widest park of the paw.
Washing Instructions
Please secure all fasteners and handwash using a mild detergent. Please hang to dry and do not dry clean or use bleach on the product.