Purica Pet Recovery Extra Strength Powder Whole Body Health for Pets
by Purica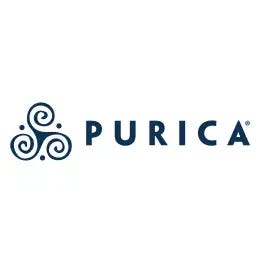 List Price:
$31.49
Starting From:
$31.49
Product has been added to cart
Helps prevent injuries within muscles and bones
Reduces pain, inflammation, and spasms
Increases endurance and flexibility
Ideal for athletic dogs, cats, and other small animals
Combats digestive and breathing concerns
Available in a 150 g jar, 350 g jar, and a 1 kg bag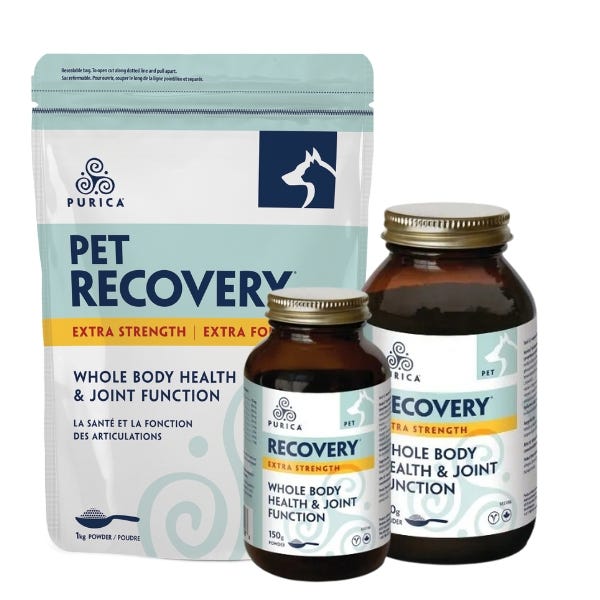 Purica Pet Recovery Extra Strength Powder Whole Body Health for Pets is a great natural supplement for reducing pain and preventing future injuries in your pet, especially those related to the muscles and bones. Composed of a combination of vitamins and minerals, this powder will increase your pet's endurance and flexibility while also improving skin and coat.
The Extra-Strength formula is the same as the regular Beyond Pain Relief formula, with the addition of hyaluronic acid. This addition makes the supplement more effective for pets that are especially active so you can keep them healthy and happy even longer. Available in a 150 g jar, 350 g jar, and a 1 kg bag.
Also available separately in chewable tablet form.
Suggested Use:
Introduce this product gradually over a two-week period to a concentrated dose of 1/2 teaspoon daily per 20 lbs body weight. Mix with food. Sprinkle onto your pet's food or mix in with a meal topper. 
After 30 – 60 days it may be possible to reduce intake to 1/2 the concentrated dose as stated above.
Please consult your veterinarian before giving your dog supplements. 
Each 2 grams (1/2 tsp.) of Purica Recovery SA - Pain Relief - Extra Strength contains:
Nutricol - Bioflavonoid mix
(proprietary extracts of grape seed and green tea)
75 mg
L-lysine HCL
250 mg
Methyl Sulfonyl Methane (MSM)
500 mg
Glucosamine Hydrochloride (plant source)
500 mg
Betaine hydrochloride
100 mg
Vitamin C (magnesium ascorbate)
135 mg
Vitamin E (natural d-alpha tocopheryl acetate)
50 iu
Elemental Magnesium (magnesium ascorbate)
50 mg
Hyaluronic acid - HA (sodium hyaluronate)
15 mg
In a base of oligosaccharides.