AquaForce Pro 4000-8000 Pump
List Price:
$839.99
Our Price:
$669.99
You Save:
$170.00 (20%)
Product has been added to cart
For ponds 3500+ US Gallons
Max flo rate: 7793 GPH
Submersible waterfall and filter pump - ideal for use with external pressure filters and waterfall type filter systems
Asynchronous motor - high torque and trouble-free performance
Extremely energy efficient
Durable pre-filter cage - prevents clogging
Lage cage openings - allows up to 1/4" debris to pass through
Rotational ball output - easily adjustable pump discharge position
Doubles as a winterizing pump
Includes multi-function remote - Fine-tune the flow of streams and waterfalls
Item #: 91104
The AquaForce Pro 4000-8000 Pump is a highly efficient, submersible pumps perfect for external pressure filters and waterfall type filter systems. With the large cage openings, this pump can pass solids and debris up to 1/4" to be filtered. Anything bigger will not be able to pass through the pre-filter cage, which prevents clogging and reduces pump maintenance. Its wide, flat shape and rotational ball output allows you to easily adjust and position the pump and discharge position making set-up that much simpler. Not to mention the ingenious asynchronous motor combining the efficiency of a mag-drive motor, but the power and torque of direct drive motor. This provides superior performance with minimal energy costs. Even the small details, such as oil-free design to prevent contamination and the unique ceramic shaft to prevent overheating with a cooling port, this pump is engineered for as an ideal winterizing pump and for continuous use, making AquaForce pumps an ideal choice for the discriminating pond owner.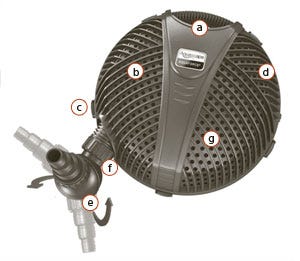 AquaForce Pro Pump Features
a) Protective pump cage prevents large debris from clogging or damaging pump, and reducing maintenance
b) Large cage opening allow solids to be processed by pump, and prevents clogging or damage.
c) Pump cage clips make it easy to open, maintain, and remove debris
d) Wide and flat shape makes the pump stable and easy to place within pond
e) Rotational ball output allows discharge position to be easily adjustable.
f) Simple and secure threaded disconnect allows for the pump to be easily removed without removing hose clamps or plumbing assemblies
g) Asynchronous motor technology makes this pump more powerful and more efficient than traditional magnetically driven pond pumps.
h) Includes infrared multi-function remote to control and fine-tune the flow of waterfalls and streams
---
AquaForce 5200 Replacement Parts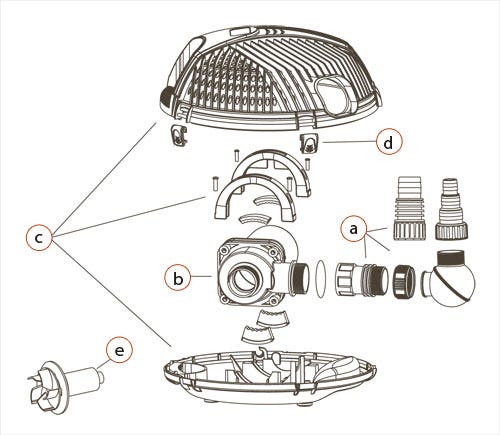 AquaForce Pro 4000-8000 Pump Specifications
For ponds up to:
3500+ US Gallons
Dimensions:
14" L x 14" W x 6.5" H
Unit weight:
16.5 lb
Max flow rate:
7793 GPH
Max head height:
28 ft
Motor type:
Asynchronous
Pump discharge diameter:
1.5" MPT
Voltage:
120V
Frequency:
60 Hz
Amperage:
5.5A
Wattage:
500-660W
Power cord length:
20 ft
Outlet diameter:
1", 1-1/4", 1-1/2", 2"
Monthly operating costs*:
$36.00 - $47.52
Reorder number:
91013
Warranty:
3 Year Limited
MSRP**:
$679.99
Includes:

1-1/2" Rotational ball output
1-1/2", 2" Multi-hose adapter
1", 1-1/4", 1-1/2" Multi-hose adapter

View AquaForce Instruction Manual
* Operating cost based on 10 cents per kilowatt hour. **Contractor discounts are based off of MSRP.