KONG Wobbler
by KONG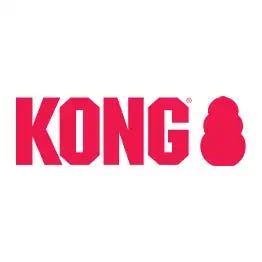 List Price:
$25.49
Starting From:
$21.99
You Save:
$3.50 (14%)
Product has been added to cart
A very challenging dispensing toy with unpredictable movement
Made of FDA food-approved, strong, plastic polymer
Top Shelf, Dishwasher safe
Unscrews into two pieces for easy filling
Great for puppies and adult dogs
Available in 2 sizes: Small & Large
Made in USA
KONG Wobbler is a food dispensing toy and feeder that will keep your dog challenged and entertained.
This unique dog toy sits upright until pushed with a dog's paw or nose and dispenses treats as it spins, rolls and wobbles. The Wobbler can be used as a treat dispenser or as an alternative to a dog bowl helping to extend meal time and providing exercise for your dog. A twist off top makes it easy to fill and easy to clean. 
Available in sizes small and large, see specifications tab for more informtation. Dishwasher safe.  
KONG Wobbler Sizes:
| | |
| --- | --- |
| Small | Large |
| 16 cm x 10 cm (6 1/4" x 4") | 19 cm x 12.7 cm (7 1/2" x 5") |
| Up to 12 kg (25 lbs) | For dogs over 12 kg (over 25 lbs) |
| Fits up to 1/2 cup of food | Fits up to 1 cup of food |
Warnings:
Always supervise your dog while using the KONG Wobbler.
Check toy frequently for damages, or torn pieces.
Replace if damaged.
This is not a chew toy.
Dishwasher Safe on the Top Shelf of dishwasher