KONG Cat Kickeroo Refillables
by KONG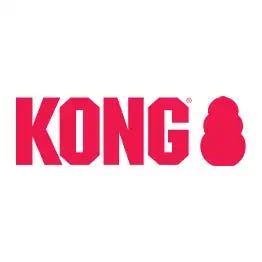 List Price:
$11.49
Our Price:
$9.49
You Save:
$2.00 (17%)
Product has been added to cart
Ultra-soft pillow with a tail
Stitched on pocket - easy to add and refill catnip
Long tail - for enticing and chasing
Stimulates cat's natural hunting instinct
Available in two fun patterns, please allow us to choose the pattern for you
The KONG Cat Kickeroo Refillables is a plush pillow cat toy that cats love to tackle and cuddle.
Each Kickaroo Refillables is constructed of an ultra-soft fabric with an outside pocket stitched on, allowing you to add your cat's favourite loose catnip or KONG's premium North American catnip and refresh it anytime it is no longer charming your feline friend. This fluffy pillow is a great addition to play time as it allows your cat to hug the pillow while kicking and biting it to his heart content and with a shake of its long fluffy tail will entice your cat to charge at it. Mentally stimulating and fulfilling your cat's instinct to hunt and wrestle its prey. 
Kong Cat Kickeroo Refillable is available in two fun patterns, please allow us to choose the pattern for you. Please see the specifications tab for more information on the product. 
KONG Kickeroo Refillables Dimensions
Available in a variety of patterns. Please allow us to select for you.
Caution
Please supervise your cat with this toy at all times. If any damage to the product starts to appear, please remove the toy immediately.