Dogit Training Pad Holder
by Dogit
Product has been added to cart
Protects Floors and Carpets
Helps contain spills using a raised edge barrier
Easy clean up
Use with Dogit Clean Dog Training Pads
Creates a contained rest stop for your dog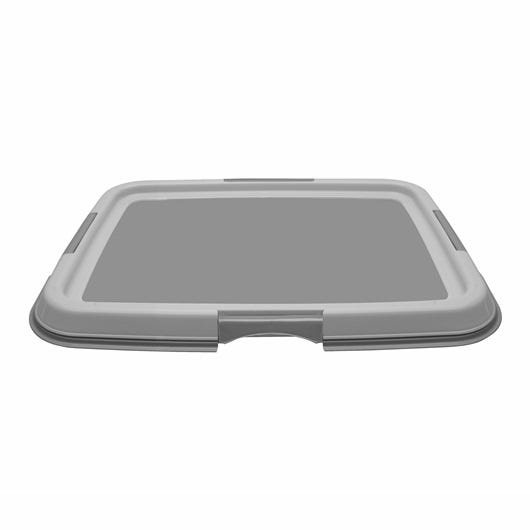 The Dogit Training Pad Holder for dogs is part of the training tools for housebreaking dogs.
Designed for use with Dogit Clean Training Pads, the pad holder is a locking plastic frame to hold training pads in place and to help contain spills. Raised edges keep spills in the holder and the locking frame keeps pads in place, making clean-up easy. This simple to use pad holder makes dog housetraining even easier.
Size: 59.6 cm x 59.6 cm x 4.45 cm (23.5" x 23.5"x 1¾").
For use with Dogit Clean Training Pads.
Dogit Training Pad Holder Directions:
Unlock the clips.
Lift up the outer frame.
Position your training pad in place.
Lock the frame back in place, cloth side up, plastic side down.
Pad and frame are now ready to train.
Dogit Training Pad Directions:
Start by positioning the training pad in a designated place where the dog should void.
Place the pad, cloth-side up and plastic side on the floor.
The leakguard pockets are quilted and will help prevent waste from spilling on the floor.
To protect floors best, the pad should be placed on a Dogit Training Pad holder.
When your dog voids on the pad, reward with a treat and praise promptly for going in the right place.
Remove the old pad and replace with a new training pad.
Make sure the pad is in the same designated place.
Your dog will become confused if you keep changing where they can use the training pad, so keep the location consistant.
If your dog doesn't eliminate on the pad, place him on the pad and encourage him to eliminate on the pad.
Tip: For indoor training it helps to keep the dog confined to a small space, such as a kitchen or bathroom, until they get used to using the training pads.
When your dog is consistently using the training pad indoors, it's time to transition him to using it outdoors.
Place a training pad outdoors where the dog can void.
Again, after every use, replace the pad with a new one and keep it postitioned in the same place.
After a short time your dog will get used to using the pad outdoors and learn not to eliminate in the house.
Once your dog has consistently learned to use the pad outdoors, you can discontinue use.