This & That Everest Cheese Enhanced Antler Chew
by This & That
List Price:
$17.49
Starting From:
$16.99
You Save:
$0.50 (3%)
Product has been added to cart
100% naturally-shed antler
Sourced from Canadian venison farms
Excellent source of glucosamine & chondroitin for joint support
Enhanced with Cheese flavouring for palatability
Suitable for small to giant dog breeds
Available in a variety of sizes
Durable but can splinter, break or chip with slightly moderate to power chewers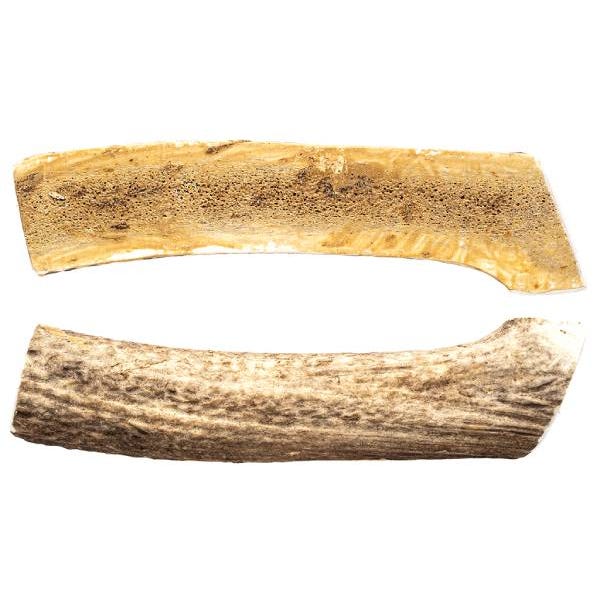 This & That Antler Everest Cheese Enhanced Antler Chew is 100% naturally-shed split antler sourced directly from Canadian venison farms. These long-lasting chews are a natural source of glucosamine and chondroitin, which aids with hip and joint mobility for your best friend. These split antlers have also been enhanced with irresistible Everet cheese for palatability. Great for dogs who enjoy chewing on antlers but need extra flavouring. 
Enhanced Antler Chew is suitable for adult small to giant dog breeds and comes in small to x-large sizes; please see the specifications tab for more information.
Although durable, antlers can still splinter, break or chip with slightly moderate to power chewers. Please supervise your dog with chew at all times and take the chew away if you see any splinters, breaks or chips on the antler. 
Measurements
| | |
| --- | --- |
| Size | Approx. Measurement |
| Small | 9 - 11 cm (3.5 - 4")  |
| Medium | 11.5 - 16 cm (4.5 - 6.2" ) |
| Large | 16.5 -17.8 cm (6.4 - 7") |
| X-Large | 18 - 20.5 cm (7 - 8.1") |
The measurements given are an approximate size as all antlers are never the same.
Cervid antler, Everest cheese (yak milk, achham cow milk, salt, lime juice), vegetable glyverin.