Purica Pet Recovery - Whole Body Health & Joint Function - Extra Strength Chewable Tablets
by Purica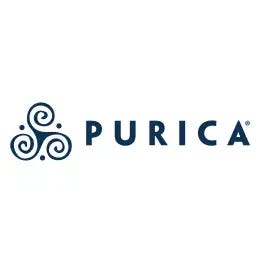 List Price:
$33.95
Starting From:
$30.99
You Save:
$2.96 (9%)
Product has been added to cart
Effective in preventing, mitigating, and recovering from many health conditions
Alleviates pain, inflammation, and spasms
Improves flexibility, agility, and stamina
Assists with breathing and digestive problems
Suitable for active dogs, cats, and other small animals
Available in a jar of 60, 120, or 360 chewable tablets
Made in Canada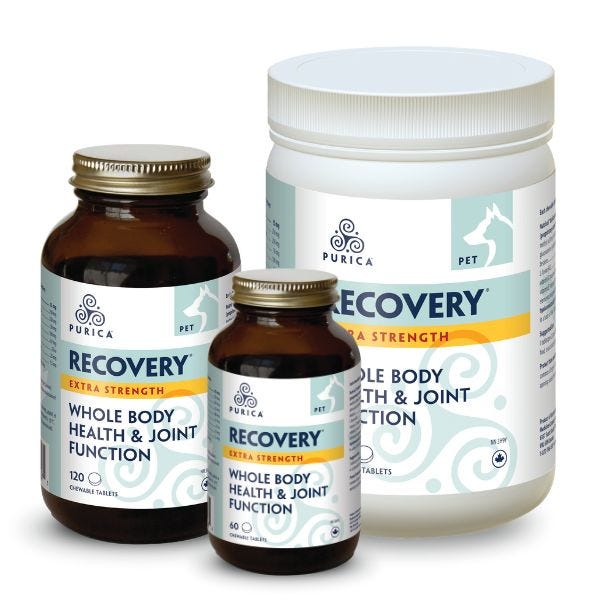 Purica Pet Recovery - Whole Body Health & Joint Function - Extra Strength Chewable Tablets wants to keep your pet playful and happy. The formula targets the entire body to prevent, minimize the impacts of, and recover from many health concerns. By strengthening bones, muscles, and connective tissue, your pet can minimize the potential of injury and can prevent or delay conditions resulting from age. It can alleviate pain, inflammation, and spasms by inhibiting damage to cells, easing tension, and increasing cell responsiveness to hormones. For example, improving cell sensitivity to insulin assists your pet with some digestive issues. Breathing is also helped by taking this supplement. Improving flexibility, stamina, and agility is also a benefit from taking this supplement. 
Suitable for active cats, dogs, and other small animals. Available in a jar of 60, 120, or 360 chewable tablets. Made in Canada.
For more information, please see the specifications tab.
Analysis (per each 2 g chewable tablet)
| | |
| --- | --- |
| Nutricol*–Antioxidant bioflavonoid mix (extracts of grape, green tea) | 35 mg |
| Methylsulfonylmethane (MSM) | 250 mg |
| Glucosamine Hydrochloride (plant source) | 250 mg |
| Betaine Hydrochloride | 50 mg |
| L-lysine HCL | 100 mg |
| Vitamin C (magnesium ascorbate) | 67 mg |
| Vitamin E (natural d-alpha tocopheryl acetate) | 25 iu |
| Elemental Magnesium (magnesium ascorbate) | 25 mg |
| Hyaluronic Acid (sodium hyaluronate) | 7.5 mg |
In a base of liver flavour and microcrystalline cellulose. 
Dosage
Give 1 tablet per 20 lbs body weight once or twice daily. Mix with food or as directed by your veterinarian.
Protect from moisture. Made with all-natural ingredients lacking in common allergens. Store at room temperature (15 - 30 degrees Celsius). The bottle opening is sealed for package security. 
Nutricol, Methylsulfonylmethane, glucosamine Hydrochloride, Betaine, L-lysine HCL, Vitamin C, Vitamin E, Elemental Magnesium, Hyaluronic Acid