Product has been added to cart
Freeze dried dog treat
Made from 100% natural beef liver, sweet potatoes, banana, apple and pumpkin
Low calorie, high in flavour 
Easy to break apart - Great for training
All natural - no additives, preservatives, chemicals or colouring
Available in 200 g, 400 g or 1.22 kg bags
Made in Canada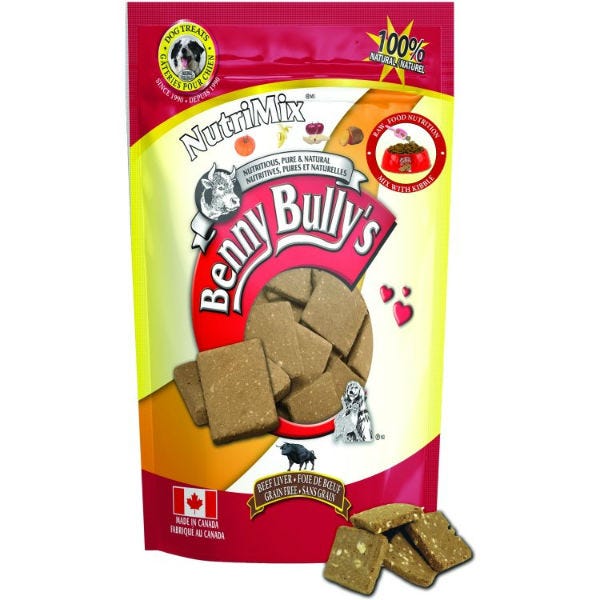 Give your dog's kibble a delicious, flavourful boost with Benny Bully's Nutrimix; these cubes are crafted using natural, deliciously sliced beef liver with a variety of ingredients such as bananas, pumpkin, apples and more, then freeze-dried into a high-quality, palatable and irresistible squares. Each ingredient is an excellent addition to your dog's diet, rich in vitamin A, C, B6, A with natural fibre, potassium, antioxidants, folic acid as much more. Essential nutrients that help and support your dog in multiple areas such as skin, coat, digestion, immune system and more. 
Benny Bully's meal mixers are a low-calorie and can be added to your dog's food or offered as a training treat or reward. Benny Bully meal mixer are all natural and do not use any additives, preservatives, chemicals or colouring, please see the specifications for more information. Available in a 200 g (7.1 oz), 400 g (14.1 oz) and 1200 g (2.65 lbs), made in Canada. 
Guaranteed Analysis
Per 100 g/ingredient
Protein (Min.)
52 g
Fat (Min.)
9 g        
Carbs
27 g
Ash
5 g
Moisture (Max.)
5 g
Fibre (Max.)
2 g
Calorie Content: 404 kcal/kg
100% pure beef liver, sweet potatoes, bananas, apple, pumpkin.