Product has been added to cart
Made in Canada
Biologically appropriate formula
WholePrey Diet - Includes fish, organs & cartilage
Low-glycemic carbohydrate alternatives - lentils, peas, garbanzo beans
50% wild and sustainably caught Pacific Pilchard
50% fresh fruits, vegetables & botanicals from B.C.
Ingredients from trusted, local sources delivered fresh every time
Rich in Omega fatty acids - supports healthy skin and coat
No grains, wheat, potatoes, corn, tapioca, or gluten
Never frozen and no preservatives
Processed and sourced from Canada's best and freshest ingredients
For all breeds and life stages
About Acana Singles Formulas
Acana Singles Limited Ingredients Formula Dog Food inspiration and ingredients come from Canada's vast and fertile lands which provide quality, regional sources that are always delivered fresh without preservatives. This creates a biologically appropriate, easily digestible formula with a single animal protein! Not to mention the fresh, local fruits & vegetables are never frozen and are fit for human consumption. Acana Singles have also replaced all grains with low-glycemic carbohydrate sources such as red lentils, green peas, and garbanzo beans from trusted Canadian sources.


About Acana Pacific Pilchard Dog Food
As for Acana Pacific Pilchard Dog Food, this food is the newest addition to Acana's Singles Formulas. It features ingredients such as wild and sustainably caught cold-water Pacific Pilchard from Port Hardy, British Columbia (single protein source) as well as sun-ripened fruits and vegetables from farms in Fraser Valley, British Columbia. This wholesome dog food is free of grains and high-glycemic carbohydrate sources and instead uses high quality alternatives such as whole grean peas, whole red and green lentils, and whole garbanzo beans. The recipe is rich in Omega-3 Fatty Acids from the wild-caught pilchard to provide a luxuriant, healthy skin & coat. This food is unmatched with its regional and fresh ingredients from Canada's best to create a top quality food that will keep your dog healthy and happy!
Additional Benefits
Biologically Appropriate Formula – Ingredients and nutrients for the body to absorb easily and readily
Low-Glycemic Carbohydrate Sources – Causes blood sugar to rise less over longer periods of time
100% Regionally-Sourced Ingredients – Delivered fresh every day from trusted local sources
WholePrey Diet - Includes fish, organs & cartilage
Rich in quality protein – 50% Wild and sustainably caught whole Pacific Pilchard from Port Hardy, B.C., included in fresh, freeze-dried & oil form
Fresh and local fruits, vegetables & botanicals – 50% fruits, vegetables, and botanicals that come from trusted, local sources delivered fresh every time
Promotes Optimal Skin and Coat Condition – Each bite of ACANA Pacific Pilchard is rich in marine-source Omega 3 (DHA, EPA) to support immunity and luxuriant skin & coat
Enhanced metabolism – Organic sea vegetables and botanicals including chicory root, milk thistle, turmeric, and rosehips enhance metabolism while nourishing and toning your dog's digestive tract.
No added water – Gently steam-cooked in their natural juices
No grains, wheat, tapioca, potatoes, corn or gluten – Ingredients often associated with digestive disorders
Never frozen and no preservatives – Truly fresh ingredients fit for human consumption
For all breeds and life stages
Guaranteed Analysis
| | |
| --- | --- |
| Crude Protein (Min.) | 31.0% |
| Crude Fat (Min.) | 15.0% |
| Crude Ash (Max.) | 7.5% |
| Crude Fiber (Max.) | 5.0% |
| Moisture (Max.) | 12.0% |
| Calcium (Min.) | 1.1% |
| Phosphorus (Min.) | 0.9% |
| Omega-6 Fatty Acids (Min.) | 2.5% |
| Omega-3 Fatty Acids (Min.) | 1.5% |
| DHA (Min.) | 0.4% |
| EPA (Min.) | 0.3% |
| Glucosamine (Min.) | 700 mg/kg |
| Chondroitin Sulfate (Min.) | 900 mg/kg |
Caloric Content
Metabolic Energy for ACANA Pacific Pilchard is 3393 kcal/kg (407 kcal per 120g/250ml cup) with 32% of energy from protein, 38% from fats, and 30% from fruits and vegetables.
ACANA mirrors the meat and protein concentrated diets that all dogs are evolved to eat, while reducing the carbohydrates and high-glycemic grains that cause blood sugar levels to rise and fluctuate. Compared to conventional foods, ACANA delivers more calories from protein and fat and fewer calories from carbohydrates, reducing the risk of obesity and diabetes and promoting your dog's peak health.
Feeding Guidelines
| | | |
| --- | --- | --- |
| Weight of Dog | Active | Less Active |
| kg (lb) | cups/day | cups/day |
| 2 kg (4 lb) | 1/3 cup | 1/4 cup |
| 5 kg (11 lb) | 3/4 cup | 1/2 cup |
| 10 kg (22 lb) | 1-1/2 cups | 1 cup |
| 20 kg (44 lb) | 2-1/2 cups | 1-2/3 cups |
| 30 kg (66 lb) | 3-1/3 cups | 2-1/4 cups |
| 40 kg (88 lb) | 4 cups | 2-3/4 cups |
| 50 kg (110 lb) | 4-3/4 cups | 3-1/4 cups |
* 1 cup = 120 g. To help maintain freshness. we recommend sealing bag tightly and storing in a cool, dry location. This chart is a guide, and may differ based on feeding habits and activity levels of your dog.
Delivered Fresh Every Day
ACANA Pacific Pilchard features an unmatched variety of local ingredients that are raised or fished by people ACANA knows and trusts, tested to be "fit for human consumption", and then delivered to the door of their award-winning kitchens fresh each day!
Ingredients
Fresh Whole Pacific Pilchard (25%), Whole Pilchard Meal (18%), Whole Green Peas, Whole Red Lentils, Whole Garbanzo Beans, Pilchard Oil (7%), Fresh Green Kale (1.5%), Fresh Spinach Greens (1.5%), Fresh Turnip Greens (1%), Cold-pressed Sunflower Oil, Lentil Fibre, Whole Green Lentils, Whole Yellow Peas, Fresh Whole Butternut Squash, Fresh Whole Pumpkin, Dried Brown Kelp, Freeze-dried Pilchard (0.1%), Fresh Whole Cranberries, Fresh Whole Blueberries, Chicory Root, Turmeric Root, Milk Thistle, Burdock Root, Lavender, Marshmallow Root, Rosehips. Supplements: Vitamin E, Zinc Chelate, Copper Chelate.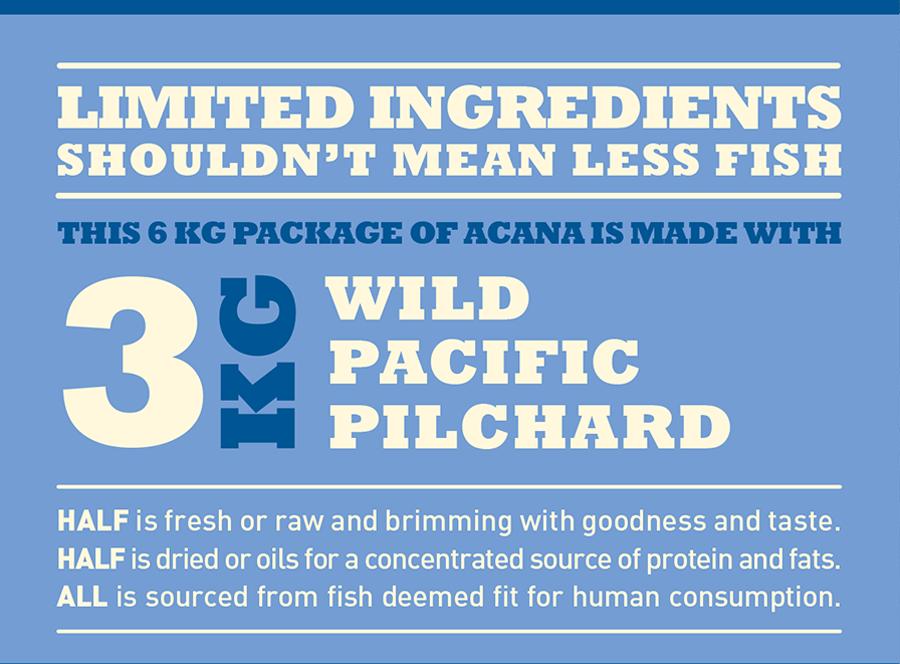 We found other products you might like!