List Price:
$26.00
Starting From:
$25.99
You Save:
$0.01 (0%)
Product has been added to cart
Set of four winter boots for dogs
Uses water-resistant nylon with leather sole
Long sleeve with top cinching strap helps keep snow out of the boots
Machine washable
Available in a variety of sizes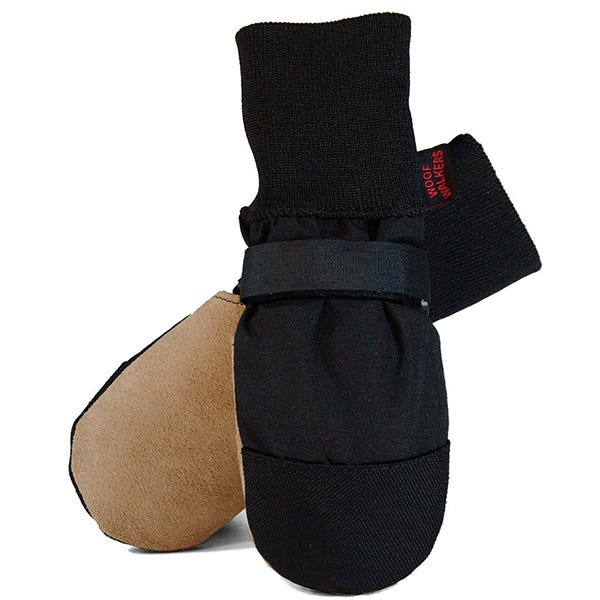 Muttluks dog boots are designed with both function and comfort in mind. The Muttluks Woof Walkers is a set of easy-to-put-on boots explicitly designed for the cold winter and aid in keeping your best friend's paws warm and protected. This boot uses water-resistant nylon with a stretchable leg cuff for protection and comfort from the elements as well as snow getting inside the boot. The boot has a bottom leather sole to protect the dog's paws from salt, snowballs and traction while in the snow or to walk on icy terrain. 
These boots are comfortable to put on and even easier to put on and adjustable for a secure and snug fit. The boot uses an elastic strap around the ankle and a side zipper to easily slip your dog's paw in a while, fitting to your dog's ankle. 
Muttluks Woof Walkers are machine washable safe; please retreat leather every wash. Available in a variety of sizes, please see the specifications tab for more information.
Paw Sizing Information
To Measure Your Dog's Paws
Place dog's front paw, standing up with full weight on a blank piece of paper. Mark from the longest toenail and come straight back down from the back of the paw to make a second marking. Measure the distance between the two markings and refer to the sizing chart below.

| | |
| --- | --- |
| Size | Measurements |
| Itty Bitty | 2.5 - 3.8 cm (1 - 1.5") |
| XX-Small | 3.8 - 5.7 cm (1.5 - 2.25") |
| X-Small | 5.7 - 7 cm (2.5 - 2.75") |
| Small | 7 - 8.25 cm (2.75 - 3.25") |
| Medium | 8.25 - 9.5 cm (3.25 - 3.75") |
| Large | 9.5 - 10.8 cm (3.75 - 4.25") |
| X-Large | 10.8 - 12 cm (4.25 - 4.75") |
| XX-Large | 12 - 14 cm (4.75 - 5.5") |
Sizing Tips
Choose a size that fits the dog's entire paw, including toenails. A snug fit is best. Boots that are too large may slip off.
Putting boots on your dog
Your dog will best acclimatize to Muttluks outdoors so be ready to go, then:
• Open the Velcro strap fastener and unzip the side
• Stand over the dog and slip Muttluks on from behind the dog
• Bunch up the cuff and pull the Muttluk over the paw
• Hold the dog's elbow with one hand and wiggle boot on with the other hand
• Zip the side up, pull Velcro strap TIGHTLY around the boot and press shut
• Cut-off any excess strap, if desired
• Take your dog outside and enjoy it!