Nature's Miracle Advanced Plantium Stain & Odor Remover & Virus Disinfectant - Cat
by Nature's Miracle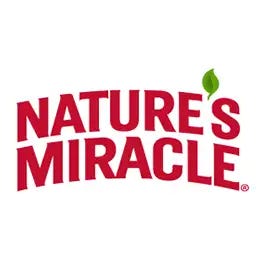 List Price:
$38.49
Our Price:
$30.99
You Save:
$7.50 (19%)
Product has been added to cart
Antibacterial cat stain removal formula
Destroys 99.9% of cat viruses that can be spread through saliva, urine or faeces
Removes tough messes
Can be used in the home, vehicles and on carpets, litter boxes and more
Available in a 32 oz spray bottle
Nature's Miracle Advanced Plantium Stain & Odor Remover & Virus Disinfectant is formulated to not only remove cat stains, whether easy or hard to remove ones but goes one step further and provides an additional antibacterial approach. This formula combines the best cleaning technologies to create the most effective, pet safe formula that can be used in the home, vehicle and on porous and non-porous surfaces such as carpets, litterboxes, doorknobs, glass surfaces and more. This product is an efficient stain removal while also destroying 99.9% of cat viruses that can be spread through means of saliva, urine or faeces. 
Please see the specification tab for further information, Advanced Plantium Stain & Odor Remover & Virus Disinfectant is available in a 946 ml (32 fl. oz) spray bottle. 
Directions for Use
Pre-Cleaning:
Please remove stain and heavy soil then apply the product onto the stained surface. Scrub and wipe away product with a cloth or paper towel.
For General Cleaning:
Spray product onto the stained area then wipe clean. 
For spot cleaning carpeted areas: Spray onto the soiled area until wet. Then gently blot the area with a clean, damp colour-safe cloth. Repeat as needed for difficult stains and allow it to air dry. 
For Disinfection:
Ensure that all feed and animals are removed from the area before using as well as litter, droppings, troughs, racks and other feeding and watering items from the floors, walls and surfaces. Clean all surfaces with soap or detergent and rinse with water. Apply the product onto surfaces and leave for about ten minutes. Allow proper airflow in the area and do not let animals, or equipment until the product has been absorbed, set or dried. 
For non-porous surfaces/pre-cleaned: Apply product to surface either by spray, sponge, mop or immersion in solution. Allow the item to remain wet from five to ten minutes. With immersion, please replace the solution daily or more frequently if it becomes soiled or diluted. 
When not in use, store product in a cool, dry place from heat and open flames. Keep out of reach of children and if the product does get in contact with eyes hold affected eye open and rinse slowly in water for 10-15 minutes and contact poison control for treatment advice. 
Caution: 
KEEP OUT OF REACH OF CHILDREN
Chlorine Dioxide (0.2%), Alkyl ((60% C14, 30% C16, 5% C12, 5% C18) Dimethyl Benzyl Ammonium Chloride (0.125%), Alkyl (68% C12, 32% C14) Dimethyl Ethylbenzyl Ammonium Chloride (0.125%), other ingredients (99.550%)