Carna4 CarnaFlora Sprouted Seed Snacks for Dogs
Product has been added to cart
Heart-shaped dog treats
Crafted using organic sprouted seeds, chicken liver, fava beans and sweet potatoes
Rich in live probiotics, enzymes, omega 6, omega 3 and essential vitamins and minerals
Grain-free uses no synthetic or added vitamins
Suitable for dogs of all life stages and breeds
Available in 16 oz bags
Made in Canada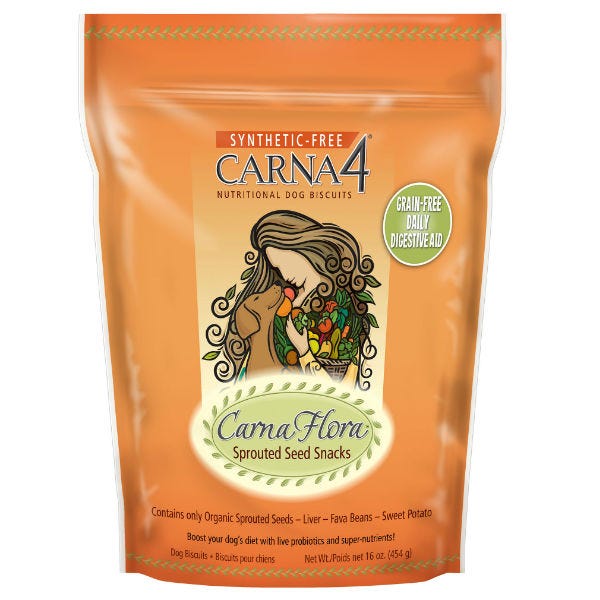 Carna4 CarnaFlora Sprouted Seed Snacks is a heart-shaped biscuit rich in irresistible flavour and healthy nutrients for your dog's overall health. Each biscuit is made using 100% raw, organic sprouted seeds (barley seeds, flaxseeds and lentils) mixed with chicken liver, fava beans and sweet potatoes and cooked similar to Carna4's quick-bake process, a process that is similar to dehydrating treats or kibble, that locks in all the natural nutrients from each ingredient into this crunchy treat. 
CarnaFlora Snacks are rich in live probiotics, plant enzymes, essential vitamins and minerals such as vitamin B1, fibre, omega-3, protein, manganese, lignans, fibre and much more. Offering your best friend a boost,  maintenance and support of muscles, skin, coat, joints, digestion, kidneys and immune system.
Suitable for dogs of all life stages and breeds. CarnaFlora is grain-free and uses no synthetic or added vitamins; please see the specifications tab for more information. Available in 453 g (16 oz) bags, made in Canada.
Guaranteed Analysis
Crude Protein (min.)
31%
Crude Fat (min.)
12%
Crude Fibre (max)
5%
Moisture (max)
10%
Carbohydrates (Max)
36%
Linoleic Acid (Min.)
2.1%
Calcium (Min.)
1.9%
Potassium (Min.)
0.75%
Sodium (Min.)
0.39%
Iron (Min.)
400 mg/kg
Copper (Min.)
14 mg/kg
Zinc (Min.)
170 mg/kg
Vitamin A (Min.)
14,000 IU/kg
Vitamin C (Min.)
127 mg/kg
Vitamin D (Min.)
1,400 IU/kg
Vitamin E (Min.)
380 IU/kg
Vitamin B1 (Min.)
3.9 mg/kg
Vitamin B2 (Min.)
4.1 mg/kg
Vitamin B3 (Min.)
50 mg/kg
Vitamin B5 (Min.)
16 mg/kg
Vitamin B6 (Min.)
6.0 mg/kg
Vitamin B12 (Min.)
15 mg/kg
Vitamin K (Min.)
0.5 mg/kg
Folic Acid (Min.)
1.1 mg/kg
Choline (Min.)
1,370 mg/kg
Beta Carotene (Min.)
1.4 mg/kg
DHA (Min.)
0.61%
EPA (Min.)
0.57%
Omega-6 Fatty Acids (Min.)
2.4%
Omega-3 Fatty Acids (Min.)
1.2%

Calorie Content: 3,950 kcal/kg 14 kcal/cup
Feeding Guide
For dogs that are on a meat-based diet, therapeutic dosage or to help balance home-prepared meals give one biscuit per 5 lbs of body weight.
organic sprouted seeds, chicken liver, fava beans, sweet potato.