Canisource Grain-Free Pork and Lamb Dehydrated Dog Food
by Canisource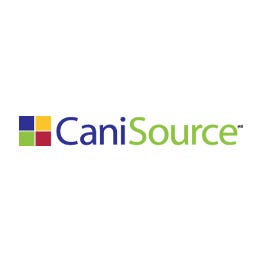 Product has been added to cart
Made in Canada
All ingredients approved for human consumption
Benefits of a raw diet with the convenience of kibble!
Contains Lupine seeds, a low glycemic bean
Optimal skin & coat balanced ratio of Omega 3 and 6
Contains ingredients that benefit joints, urinary, and digestion
Low-temperature dehydration - Rather than extrusion; preserves a greater amount of natural nutrients and proteins
No added by-products, wheat, soy or corn
Suitable for all breeds in all life stages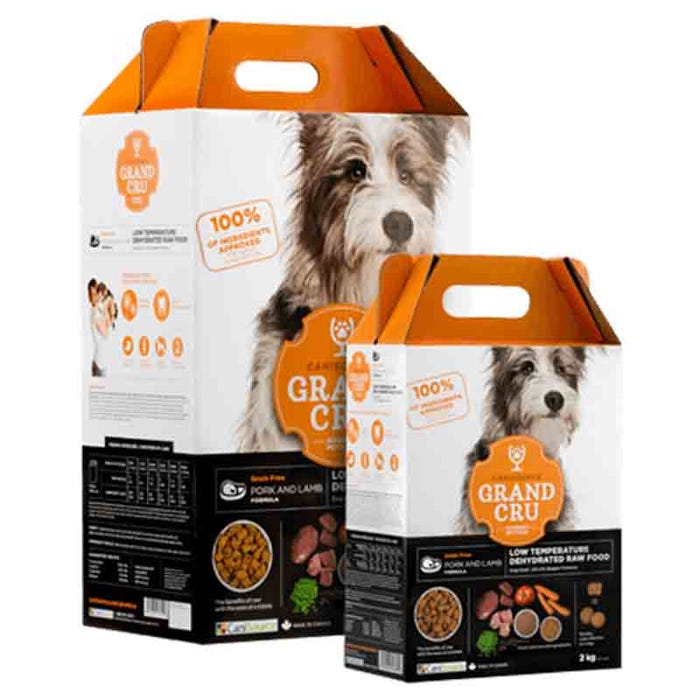 CaniSource is a high-protein food that has been created to provide your dog of any breed and life-stage the quality diet she deserves and needs! Using human-grade ingredients and the process of dehydration, the nutrients are deliciously maintained and ready to be served to your furry friend! Most allergies in dogs are caused by additives found in most kibble, that is why CaniSource uses 100% natural ingredients. CaniSource is highly digestible, and often resolves many allergy and digestive issues.  CaniSource Grain-Free Pork and Lamb Dehydrated Dog Food uses a delicious recipe including high protein meat from fresh pork, pork liver, and lamb, followed by fresh apples and carrots, and highly digestible plant proteins such as lupines, green lentils, and green peas! This recipe provides a flurry of flavors that your furry friend is sure to love!
No by-products, meat or fish meals added. No artificial preservatives, color, flavors or salt are added.
HOW CANISOURCE IS MADE
CaniSource is an excellent option when you want your dog to receive the nutrients that raw food provides but still have the practicality of kibble!
CaniSource starts with 100% unprocessed/uncooked, Canadian-sourced ingredients. The ingredients are then shaped into kibble and slowly dehydrated at a low temperature to preserve the original nutrients, while ensuring all bacteria is destroyed. The result is a crunchy kibble, perfectly balanced, and incredibly flavorful— even the pickiest of dogs love it! CaniSource strives to make feeding time easy, there is no need to rehydrate the kibble! Using human-grade ingredients, you can rest assured that your furry friend is getting a high-quality food.
CaniSource's method of dehydration preserves the vital nutrients and enzymes needed for optimal absorption of nutrients. This is the reason CaniSource is the best of both worlds — the benefits of raw with the convenience of kibble!
BENEFITS MOST OFTEN OBSERVED
Works to resolve allergy related and digestive issues
Healthier teeth – Reduced tartar
Healthier, shinier, and softer skin & coat
Improved mobility - healthier hips & joints
No more burned grass from pet's urine — Canisource helps maintain proper pH in urine
Available in 2 kg and 10 kg boxes, see Specifications tab for feeding guidelines.
Guaranteed Analysis
Crude Protein (min):
32%
Iodine
1.70 mg/kg
Crude Fat (min):
18%
Selenium
0.20 mg/kg
Crude Fiber (max):
3.00%
Thiamine
1.80 mg/kg
Moisture (max):
8.00%
Riboflavin
4.2 mg/kg
Omega-3 fatty acids
In analysis
Pantothenic acid
18.7 mg/kg
Omega-6 fatty acids
In analysis
Niacin
22.60 mg/kg
Ash (max.)
5%
Pyrodoxine
1.9 mg/kg
Calcium (min.)
1.2%
Folic Acid
0.2 mg/kg
Phosphorus (min.)
0.8%
Vitamin B12
0.18 mg/lg
Sodium
0.11%
Vitamin A (min.)
6450 U.I/kg
Iron
89.50 mg/kg
Vitamin D (min.)
580 U.I/kg
Copper
16.50 mg/kg
Vitamin E (min.)
65 U.I/kg
Manganese
8 mg/kg
Magnesium
In analysis
Zinc
134 mg/kg
480 Calories per cup, 4 800 kcal per kilogram (metabolizable energy)
Feeding Guide
Weight of Dog
Cups/Day (Approx)
6 kg (12 lb)
1/2 cup
12 kg (25 lb)
1 cup
20 kg (44 lb)
1-1/2 cups
28 kg (62 lb)
2 cups
39 kg (86 lb)
2-1/2 cups
50 kg (110 lb)
3 cups

Puppies: Double daily portions and feed 3-4 times daily up to 6 months old. After 6 months, feed twice daily and taper until adult.
Pregnant Dogs: Feed 50% more in the last 3 weeks of pregnancy. While lactating, feed 3-4 times daily, and double the daily portions.

*These are guidelines. Feeding amounts may vary depending on your dog's energy levels, breed, age, or even the climate. Adjust portions as needed.
Pork, pork liver, lamb, green peas, green lentils, lupine, apples, carrots, sunflower oil, sweet potatoes, ground flaxseeds, cranberries, calcium carbonate, tri-calcium phosphate, thyme, saccharomyces cerevisiae extract (MOS), chicory root extract (FOS), beet extract, elderberry extract, yeast extract, lactobacillus extract, thyme extract, niacinamide, choline chloride, zinc sulphate, ferrous sulphate, ascorbic acid (Vitamin C), zinc proteinate, iron proteinate, vitamin E supplement, calcium pantothenate, thiamine mononitrate, copper sulphate, pyridoxine hydrochloride, riboflavin, vitamin A supplement, manganous oxide, vitamin D3 supplement, copper proteinate, manganese proteinate, calcium iodate, folic acid, sodium selenite, biotin, vitamin B12 supplement, citric acid, rosemary extract.
We found other products you might like!