Pet-Tek Anchovy Oil Supplement for Pets
by Pet-Tek
Product has been added to cart
All-natural ingredients
Promotes healthy, shiny skin & coat
Excellent source of omega fatty acids
Boosts immunity and inflammation response
Prevents and reduces itching, hot spots, and shedding
Improves development, brain function, bone and joint health
Safe for cats and dogs
Available in an 8 oz (236 ml) container
Made in Canada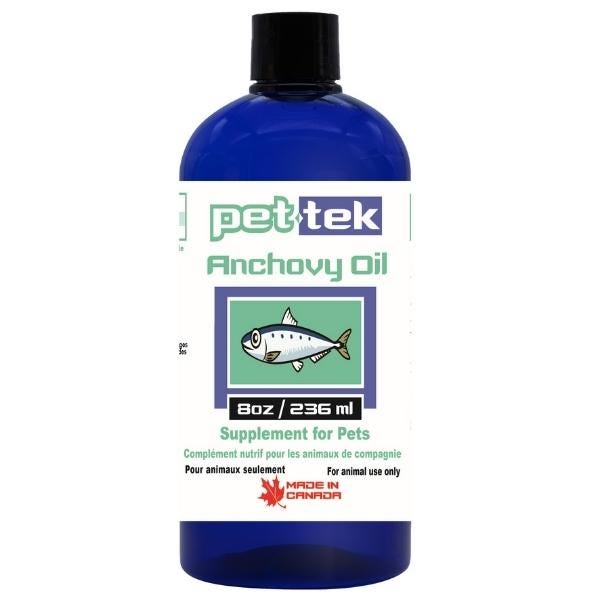 Pet-Tek Anchovy Oil Supplement for Pets is an excellent addition to your pet's diet. This oil is derived from Anchovy, molecularly distilled, microfiltered and deodorized to make it an all-natural source of Omega-3 fatty acids DHA (18%) & EPA (12%) that is safe and beneficial for both dogs and cats. The continuous consumption of this fish oil will boost your pet's immunity and inflammation response (bone and joint health), and improve development and brain function, while also promoting healthy, shiny skin & coat.
Compared to salmon oil, the concentration of Omega-3 fatty acids in anchovy oil is higher, resulting in a smaller dosage needed per serving, which makes this bottle equivalent to a 32 oz. bottle of wild salmon oil. Available in an 8 oz (236 ml) container. Made in Canada.
Feeding Guidelines
| | |
| --- | --- |
| Adult Dogs | 1.25 ml per 10 kg (22 lbs) of body weight |
| Puppies, pregnant or nursing dogs | 1.25 ml per 5 kg (11 lbs) of body weight |
| Cats/Kittens | 1.25 ml per 5 kg (11 lbs) of body weight |
Add oil directly to your pet's dry or wet food. Close properly after each use and refrigerate after opening. Follow recommended dosage carefully.
Anchovy Oil and Tocopherols (antioxidant for shelf stability).