Nature's Miracle Just for Cats Litter Box Odor Destroyer
by Nature's Miracle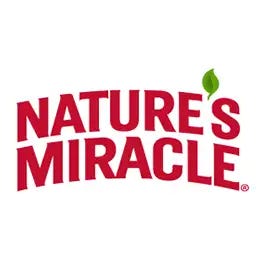 List Price:
$16.49
Our Price:
$12.99
You Save:
$3.50 (21%)
Product has been added to cart
Powerful cat litter odour eliminator
Doesn't just mask odour, it breaks it down to permanently eliminate odor
Easy to use spray formula
Eliminates odour in the air, on fabric and on hard surfaces
Unscented formula
Won't clump cat litter
709 ml (24 oz) bottle
Nature's Miracle Just for Cats Litter Box Odor Destroyer is a spray on litter box odour eliminator for airborne, fabric and hard surface cat odours.
Nature's Miracle doesn't just mask the smell, it breaks down litter box odours and leaves a clean, fresh environment for you and your cat to enjoy. The unique spray formula actually reacts with unpleasant cat odours; in the air, on clothing, furniture, or floors and breaks these odours down instantly.
Nature's Miracle Odor Destroyer is safe to use on all types of litter substrates and will not clump. To use simply spray where ever you may need to freshen from any unpleasant cat odours. Nature's Miracle Cat Odor Destroyer is one of very few products that offer a triple-action formula that eliminates litter box odour from fabrics, the air and from hard surfaces instantly.
When used as directed the spray is safe for use around pets and children. Contains 709 ml (24 oz)
Nature's Miracle Litter Box Odor Destroyer Directions:
In Litter Box:
After your cat's finished using the litter box, spray liberally into the litter box
Litter box does not have to be empty or litter-free.
For Airborne Litter Odours:
Mist liberally into the air.
For Fabric Odours:
Mist light and evenly onto the surface of the fabric until it's slightly damp.
Not recommended for use on leather, suede, silks, or any dry-clean only fabrics.
Before spraying on fabrics, be sure to test for colour fastness on a hidden area of the fabric and wiping with a cloth.
For Hard Surface Litter Odours:
Lightly mist until object is slightly damp.
Wipe off excess with a cloth.
WARNING FOR PREGNANT WOMEN AND IMMUNE SUPPRESSED INDIVIDUALS:
Cat Feces can sometime transmit a disease called "Toxoplasmosis."
Please take the necessary precautions with handling cat litter.
Always wash your hands well after handling used cat litter.
Water, Propietary Odour Control Formula, Methylchloroisothiazolinone, Methylisothiazolinone