Nature's Miracle 3-in-1 Odor Destroyer - Fresh Linen
by Nature's Miracle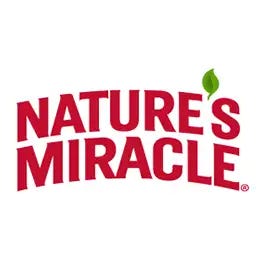 List Price:
$14.49
Our Price:
$9.59
You Save:
$4.90 (34%)
Product has been added to cart
Advanced triple action formula - removes airborne, fabric, and hard surface odours
Breaks down the odour, doesn't just mask it
Instantly eliminates odours
Fresh Linen scent
Available in 24 fl oz (709 ml) spray bottle
Nature's Miracle 3-in-1 Odor Destroyer - Fresh Linen Scent is recommended for pet owners seeking to eliminate airborne and surface pet odours. This is the only Nature's Miracle that will eliminate airborne, hard surface, and fabric odours all in one. Unlike many other odour removers, Nature's Miracles advanced triple-action doesn't just mask the smell, it formula goes to work and actually destroys the organic odours with it's bio-enzymatic formula. You may use the 3-in-1 Odor Destroyer in the air, carpets, kennels, tile, cars, and other hard surfaces.
Directions for Use
For Airborne Odours
Liberally spray into the air.
For Use on Fabric and Carpet Odours
Before use, test surface for colour fastness by applying to hidden area.
Spray lightly and evenly onto fabric surfaces until slightly damp
For Use on Hard Surface Odours
Lightly spray on object until slightly damp
Wipe excess with cloth
Tips for Success
Always test surfaces to be treated for color fastness by applying to a hidden area and wiping with a cloth. If color is removed from the test area, do not use Nature's Miracle 3–in-1 Odor Destroyer on this surface.
Always use Nature's Miracle 3-in-1 Odor Destroyer at full strength for best results.
Nature's Miracle 3-in-1 Odor Destroyer not recommended for use on silks, leather, or suede.
Keep the product away from children and pets and do not allow pets onto the treated area until it is completely dried.
Caution
Can cause eye and/or skin irritation. If contact occurs, rinse thoroughly with water for 15 minutes. If irritation continues, seek medical attention. Harmful if swallowed. Keep out of reach of children. Do not spray directly on animal.