Laguna Max-Flo Pond Pumps
Product has been added to cart
Submersible, solids handling waterfall and filter pump
Pre-filter cage - reduces rick of clogging to protect impeller
Energy efficient - low energy consumption and operating costs
Mag-Drive motor technology - unmatched in generating powerful, continuous flow while consuming minimal energy
Smart Pump Technology - improves pump performance, energy efficiency, and user friendliness
Monitors power consumption, hydraulics, and impeller direction - ensure powerful output and energy efficiency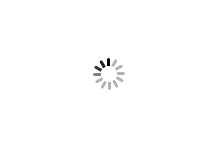 About Laguna Max-Flo Pumps
Laguna Max-Flo is a submersible waterfall and filter pump able to pass solids up 1/4" to be filtered. The enhanced cage design prevents debris from clogging to prolong the life of the pump, while being easy to take apart for cleaning. Not to mention the unique 2 level suction in the upper and lower casing allows maximum water flow. As for the heart of the pump, the magnetic driven motor technology is unmatched in the market, able to generate powerful performance and continuous flow, while consuming minimal electricity. On top of that, Laguna includes its Smart Pump Technology to monitor power consumption, hydraulics and impeller direction to ensure powerful output and energy efficiency.
As far as the little details, Laguna included features such as the click-fit coupling, keyhole cutouts, and ergonomic handle, it makes this pump user friendly and easy to maintain. To conclude, the Laguna Max-flo pumps are solids-handling, manufactured in Italy, designed to circulate water with moderate amount of solid particle and effectively filter your pond; a pump that will not disappoint.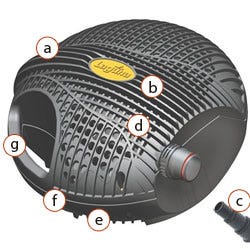 Max-Flo Pump Features
a) Strainer cage protects impeller & reduces risk of clogging
b) Cage opening for dependable solids handling capability
c) Click-Fit coupling for quick & easy hose connections
d) Unique 2-level suction through upper & lower case for maximum water flow
e) Keyhole cutouts allow cage to easily be fixed to flat surface
f) Flat shape makes for a very stable pump
g) Solid ergonomic handle
---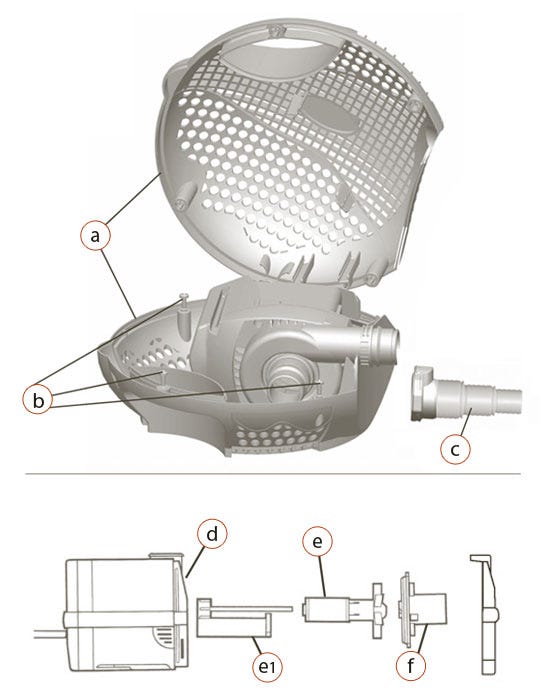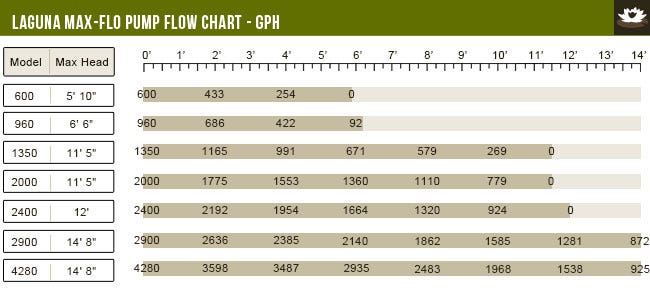 Pump Specifications
Max-Flo 600
Max-Flo 960
Max-Flo 1350
Max-Flo 2400
Max-Flo 2900
Max-Flo 4280
For ponds up to:
1200 US Gallons
1920 US Gallons
2700 US Gallons
4800 US Gallons
5800 US Gallons
4560 US Gallons
Max flow rate:
600 GPH (220 LPH)
960 GPH (220 LPH)
1350 GPH (220 LPH)
2400 GPH (220 LPH)
2900 GPH (220 LPH)
4280 GPH (220 LPH)
Max head height:
5ft 10in (1.8m)
6ft 4in (1.95m)
13ft 5in (4.10m)
12ft (3.7m)
14ft 9in (4.5m)
14ft 8in (4.5m)
Motor type:
Mag-Drive
Mag-Drive
Mag-Drive
Mag-Drive
Mag-Drive
Mag-Drive
Pump discharge diameter:
3/4", 1", 1-1/4"
3/4", 1", 1-1/4"
3/4", 1", 1-1/4"
3/4", 1", 1-1/4", 1-1/2"
3/4", 1", 1-1/4", 1-1/2"
1-1/4", 1-1/2"
Voltage:
120V
120V
120V
120V
120V
120V
Frequency:
60 Hz
60 Hz
60 Hz
60 Hz
60 Hz
60 Hz
Amperage:
0.45A
1.05A
1.25A
1.25A
1.80A
3.20A
Wattage:
32W
57W
75W
84W
112W
160W
Power cord length:
16 ft (5m)
16 ft (5m)
16 ft (5m)
16 ft (5m)
25 ft (7.5m)
25 ft (7.5m)
Monthly operating cost*:
$2.30
$4.10
$5.40
$6.05
$8.06
$11.52
Reorder number:
PT8232
PT8236
PT8240
PT8248
PT8252
PT8256
Warranty:
3 Year Limited
3 Year Limited
3 Year Limited
3 Year Limited
3 Year Limited
3 Year Limited
MSRP**:
$149.99
$219.99
$279.99
$339.99
$379.99
$439.99
View Max-Flo Instruction Manual
*Operating cost is based on 10 cents per kilowatt hour. **Contractor discounts will be based off of MSRP.