Fromm
Dog Food
Dog Treats
Cat Food
Dog Food
Dog Treats
Cat Food

Product has been added to cart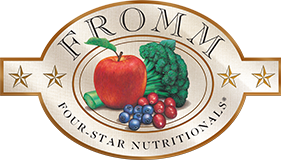 Family-owned, Artisan Pet Food
Fromm Pet Food FAQ
Where is Fromm Family Pet Foods headquartered?
Fromm Family Pet Foods is headquartered in Mequon, Wisconsin, USA.
Who founded Fromm Family Pet Foods and when?
Fromm Family Pet Foods was founded in 1904 by Erna Fromm, a German immigrant who started making premium pet foods for her family's farm animals.
What types of pet foods does Fromm offer?
Fromm offers a wide range of pet food options, including dry kibble, canned food, and treats for dogs and cats.
Where are Fromm pet foods manufactured?
Fromm pet foods are manufactured in the USA, with production facilities located in Wisconsin and Missouri.
What are the ingredients used in Fromm pet foods?
Fromm pet foods are made with high-quality, natural ingredients sourced from local farms and suppliers.
Is Fromm committed to sustainability?
Yes, Fromm is committed to sustainability and uses eco-friendly packaging materials, such as recyclable bags and boxes, to reduce its environmental impact.
Fromm Family Pet Food
If you're in search of a wholesome and nutritious pet food for your four-legged family member, Fromm Family Pet Food is an excellent choice. Since the early 20th century, the Fromm family has focused on developing balanced and nourishing pet food formulas. Five generations later, the family-owned and operated brand has evolved into a prime selection of artisan-style dog food and cat foods that supply the nutrients your pet needs not just to survive, but to thrive.
The history of Fromm & Co. can be traced all the way back to the early 1900s in Wisconsin. Two close-knit families, Fromm and Nielman, combined forces to found Fromm Laboratories, which led to the development of a canine distemper vaccine that shaped the future of dog, fox and cat health. Simultaneously, the Fromm & Nielman brothers started the world's largest silver fox farm. The unique breeding and nutrition techniques that allowed them to succeed in fox farming helped them to craft the nutritious, high-quality pet food available today.
In the 1940s, the Fromm family in a joint effort with biochemist Dr. Willard Roberts became one of the first brands to create a dry kibble that incorporated quality meats and grains simultaneously into its cooking processes. Their research and development which included feeding trials of over 50,000 foxes and dogs provided them with extensive insight to produce a well-balanced, complete dog food. After 80 years, Fromm continues to use their knowledge to develop nutritious recipes that will help your pet live a long, healthy and happy life.
Homes Alive Pets carries a variety of Fromm Family Pet Foods, including both dog and cat formulas. What we love most about Fromm is that each formula includes fresh, all-natural protein sources, such as chicken, duck, pheasant, wild salmon, tuna, and beef, with a balanced combination of fresh fruits, vegetables and beneficial supplements. The variety-driven gourmet kibble, Fromm Four-Star Nutritional, allows pet parents to offer their dog or cat an array of recipes without worrying about the digestive trouble that typically happens as a result of switching it up. Homes Alive also offers several Fromm formulas that are free of grains to accommodate dogs and cats with food allergies and sensitivities.
Whether you choose one of their dry kibbles or wet food options, you can be sure that your pets will be getting the nutrition they need and a delicious meal that they'll love with Fromm Family Pet Foods.
Compare Products
You have no items to compare.
My Wish Lists
Last Added Items
You have no items in your wish list.