Farmina N&D Pumpkin Starter Puppy Wet Food - Chicken, Pumpkin & Pomegranate
by Farmina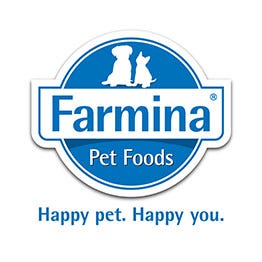 Product has been added to cart
Complete wet food formula for puppies up to two months
Uses cage-free chicken, eggs and herring
Rich in pumpkin, sweet potatoes and pomegranate
Uses zero xanthan, cassia, guar, carrageenan and industrial gums
Grain-free and no artificial preservatives
Packed in a protective atmosphere and minimally processed - uses gentle steam technology and packaged in a BPA free can
Available in individual 10 oz can and cases of 6 cans
Made in Italy
Inspired by nature, Farmina combines the highest quality of raw, natural ingredients with scientific research and techniques to create a perfect union of nature and science that helps create a rich, natural, palatable and beneficial kibble and wet food for your pet. 
Farmina N&D Pumpkin Wet Food is a grain-free and complete wet food formula line that uses cage-free chicken, eggs, sustainably sourced herring with fresh pumpkin, pomegranate and sweet potatoes. Pomegranate is rich in antioxidants and combined with the fibre rich sweet potatoes, and pumpkin for a formula that helps with maintaining and developing the immune system, skin, coat, joints, brain, digestive and overall health. 
Farmina Pumpkin Wet Food is a balanced and complete recipe specifically made for puppies during weaning and up to two months of age. Containing no grains, artificial preservatives, industrial gums, xanthan, cassia, guar and carrageenan. Each batch is made with a gentle steam technology to preserve the richness of each ingredient and packed in a protective atmosphere and into a BPA free can. Please see specifications for more information, available in an individual 285 g (10 oz) can and in cases of 6 cans. Made in Italy.  
Guaranteed Analysis
Crude Protein (min)
12.0%
Crude Fat (min)
5.0%
Crude Fiber (max)
0.7%
Moisture (max)
78.0%
Ash (max)
2.8%
Calorie Content: 1,117 kcal/kg, 318.35 kcal/can
Feeding Guidelines
Weight
Grams/Cans (1 can = 285 grams)
1.9 kg (4.4 lbs)

310 g

1 cans

4.9 kg (11 lb)

620 g

2 1/4 cans

9.9 kg (22 lb)

800 g

2 3/4 cans

14.9 kg (33 lb)

1010 g

3 1/2 cans

19.9 kg (44 lbs)

1050 g

3 2/3 cans

24.9 kg (55 lbs)

1090 g

3 3/4 cans

29.9 kg (66 lbs)

1355 g

4 3/4 cans

34.9 kg (77 lbs)

1605 g

5 2/3 cans

39.9 kg (88 lbs)

1840 g

6 1/2 cans

49.8 kg (110 lbs)

2280 g

8 cans
For Gestating of Lactating adults: Offer 30% more than the puppy amount.
Chicken, herring, pumpkin, boiled chicken eggs, herring oil, sweet potato, pomegranate, fructooligosaccharide, calcium carbonate, potassium chloride, vitamin A supplement, vitamin D3 supplement, vitamin E supplement, choline chloride, zinc methionine hydroxy analogue chelate, manganese methionine hydroxy analogue chelate, ferrous glycine complex, copper methionine hydroxy analogue chelate, selenium yeast, DL-methionine, taurine, L-Carnitine.