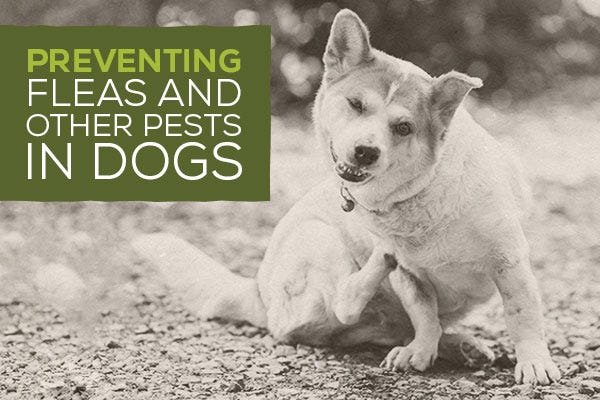 Spring brings many things for our dogs: warm weather, more time outside, summer camping and vacations, and trips to the kennel and the park. Unfortunately, spring also brings with it an onslaught of internal and external parasites that can sabotage your summer fun. Read on preventing fleas and 4 common spring parasites in dogs.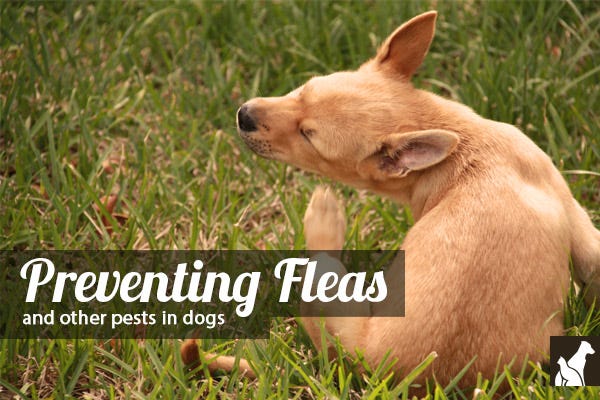 1. Fleas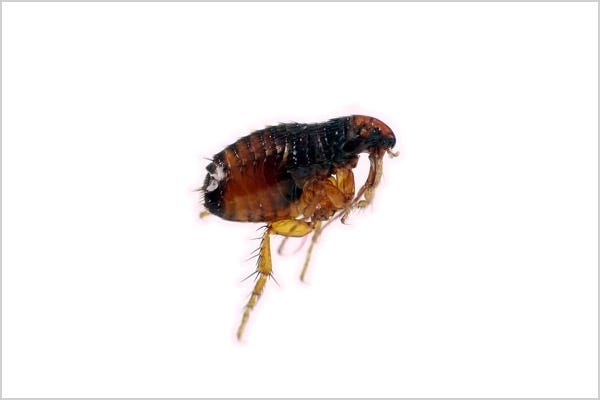 Pictured Above: Dog & Cat Flea (Ctenocephalides Canis)
Description
Fleas settle along the collar, tail, belly, or back of your dog, biting the animal and feeding off its blood supply. They can cause other infections as well as tapeworms. Fleas can bite humans as well.
Symptoms
Infected animals will bite and scratch incessantly and erratically at their skin. Raised red bumps are a sign of an allergic reaction called flea dermatitis.
Prevention
Fleas are transmitted from infected cats and dogs. Keep your pet away from other animals that may be infected. The best prevention is a topical flea treatment or collar, replaced regularly. Fleas can be transmitted at all times of the year, though more commonly in the warm months. To prevent re-infestation, wash and treat all areas your pet frequents, including carpets and beds.
2. Ticks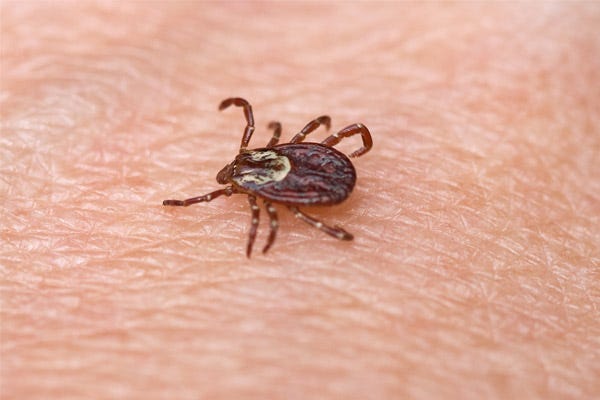 Pictured Above: American Dog Tick (Dermacentor Variabilis) on human skin.
Description
Ticks are solitary pests that prey on your pet's blood, seeking areas with little hair – including lips and ears. They are easily seen and felt on your pet's skin, and can transmit harmful diseases.
Symptoms
There are no symptoms aside from the visible appearance of ticks on your pet's skin. Flea and tick dermatitis is an allergic reaction that will show as red bumps on your dog's skin.
Prevention
Keep your pet away from wooded areas or long grass, and always check them afterward. Cut your grass regularly and keep foliage and bushes trim in your yard. The best prevention is a topical flea and tick treatment or collar, replaced regularly throughout the warmer months.
3. Ear Mites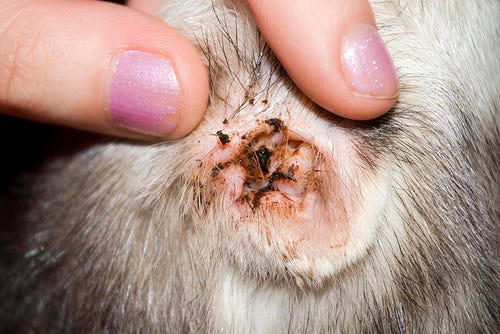 ;
Pictured Above: Ear Mite infection in a Papillon ear. (Image source: http://www.roadsend-papillons-phalenes.com/2011/08/u-ask-how-to-detect-ear-mites-in.html)
Description
Ear mites live on the surface of your dog's ears, but severe infestations can spread. If left untreated, ear mites can cause secondary infections and even deafness.
Symptoms
Infected dogs will shake their heads and scratch incessantly and erratically at their ears. Ears will appear red and swollen, with black, grainy discharge visible on a cotton swab when wiped.
Prevention
Ear mites are highly contagious, so keep your dog away from strays or other animals that may have them. Clean your dog's ears and check them regularly.
4. Worms
Description
Various types of worms can affect dogs, including: roundworms, tapeworms, hookworms, whipworms, and others. Depending on the type, worms will feed off of nutrients in your pet's intestine or directly from the blood.
Symptoms
Most common symptoms for various types of worms are a dull coat, profuse shedding, lethargy, loss of appetite, distended stomach, blood or black streaks in feces, and sometimes visible worms in feces, depending on the type.
Prevention
Puppies can get worms from an infected bitch's milk, so make sure yours has been de-wormed at around 6-8 weeks or before you bring it home. For older puppies and adult dogs, treat coprophagia, which is eating feces of other animals. Many dogs like to eat right out of the litter box, and infected dogs may even eat their own feces, reinfesting themselves. If you have a litter box for your dog or cat, scoop daily and replace litter fully at least once a month. Limit any rodent hunting your dog does, as infected rodents can transmit worms this way as well.
5. Heartworms
Description
Heartworms are a parasite that invades your pet's heart and are transmitted through mosquitoes. The Prairie Provinces in Canada are believed to be too cold for heartworms to survive, but cases still come up occasionally. The biggest risk to most Canadian pets is traveling to warmer locations.
Symptoms
Often no symptoms will be present until a year after infection. Some common symptoms include coughing and difficulty breathing, lethargy, decreased appetite, and weight loss. Heartworms can be identified by a blood test at your veterinarian.
Prevention
If you live in a temperate location in Canada, such as along the borders or the West Coast, your dog should be taking a preventative medication monthly, regardless of mosquito season. If you are traveling with your dog, research at-risk heartworm areas so you can be prepared. Mosquito sprays and deterrents designed for dog use are also effective at reducing transmission, but should not be relied on solely.