There is so much choice out there when it comes to pet foods, supplies, and pet products. While quality is always a top concern, we also want to be making positive choices with our shopping: choosing environmentally friendly and local options when available. But many brands are also out there positively impacting pet charities, such as shelters, rescues, and other non-profits – and you might not even know it.
These 11 brands that give back are some of the most philanthropic and socially responsible pet companies that we could find on our shelves:
1. Cloud Star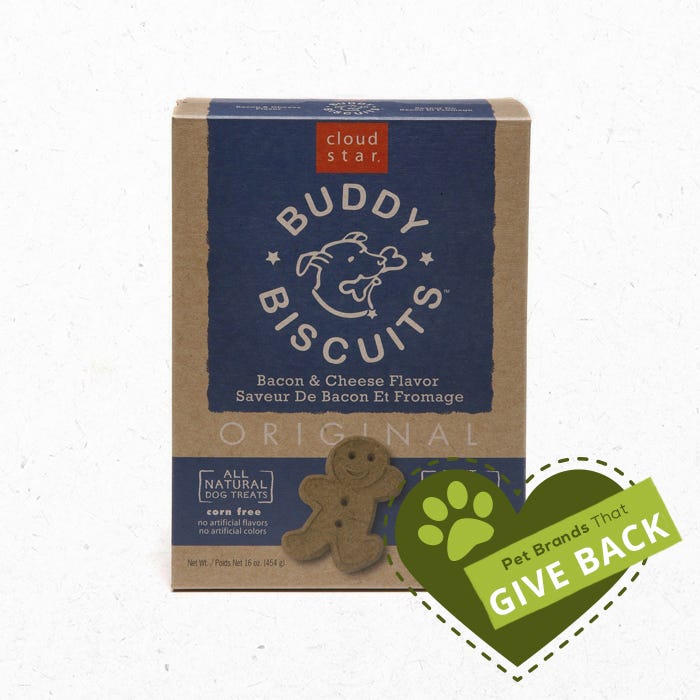 Cloud Star is the pet company that brings you Buddy Biscuits and a variety of other tasty treats, like Dynamo Bones and Tricky Trainers, as well as cat treats. Cloud Star treats are made with all-natural ingredients and are great for pets with allergies. Most Cloud Star treats are baked without major allergens such as corn and wheat, no artificial preservatives, colours, or flavours, and even come in grain-free formulas. . They're also very palatable for finicky eaters.
What they do for charity
Cloud Star makes our list because they donate 10% of their net profits to non-profits that benefit pets, women, the environment, or children. They donate mostly products to non-profit events that are user-submitted. In addition to this, Cloud Star has a program where they give $1 to charity for every Cloud Star proof of purchase you send them. If you get together with a shelter or store and collect more than 100 proofs of purchase, you can choose the organization they donate to. Cool, huh?
2. Champion Foods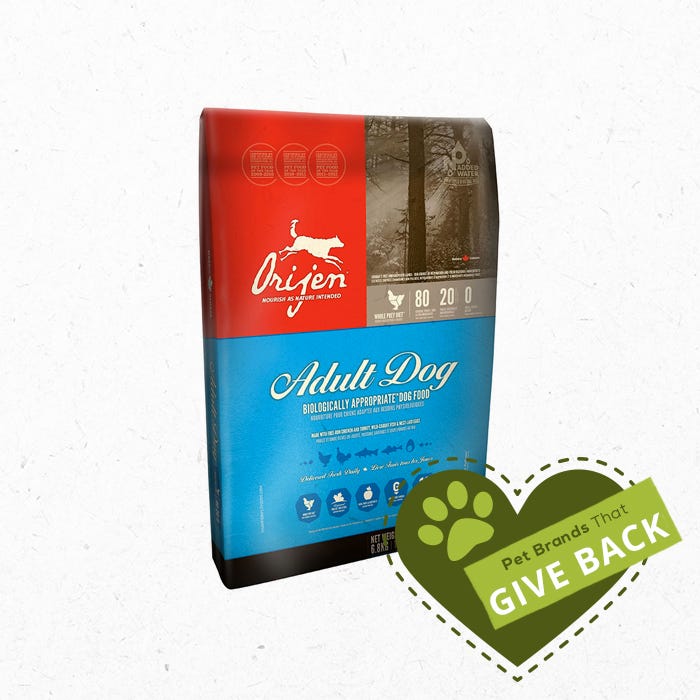 Makers of major Canadian grain-free premium brands, Acana and Orijen, Champion Foods is clearly focused on quality nutrition for pets. With foods that boast local, regional, and biologically appropriate ingredients, Champion Foods is one of our top choices for dry dog and cat foods. They are open and honest about their ingredients and manufacturing process – which is hard to come by in a pet food brand. But just in case you needed one more reason to love them, Champion Foods is also very generous.
What they do for charity
Champion Petfoods is passionate about cats and dogs, and they make sure their corporate donation program focuses on making life-changing, long-term donations to dogs and cats from rescues in their region. In 2014, they donated 132,540kg (292,200lbs) of their pet food to 40+ Rescue Partners. Each rescue in their program received donations based on need, coordinated on a rotating schedule.
Champion Petfoods also hosted their first Rescue Information session in 2014, which was a chance for Rescue Partners to learn more about the BAFRINO (Biologically Appropriate pet foods, from Fresh, Regional Ingredients, Never Outsourced) mission, tour the Champion Petfoods warehouse, and share goals and needs for their organizations. Champion hopes to make it an annual event to strengthen ties with Rescue Partners.
Champion employees are eager to help in other ways, too, and can often be found in the summer attending fundraising events put on by different rescues. They had a great time at SCARS Tails on the Trails walk last summer, raising money in different teams, the funds of which were then matched by the Champion company.
Thanks, Champion Petfoods, for listening to rescues and being awesome!
3. KONG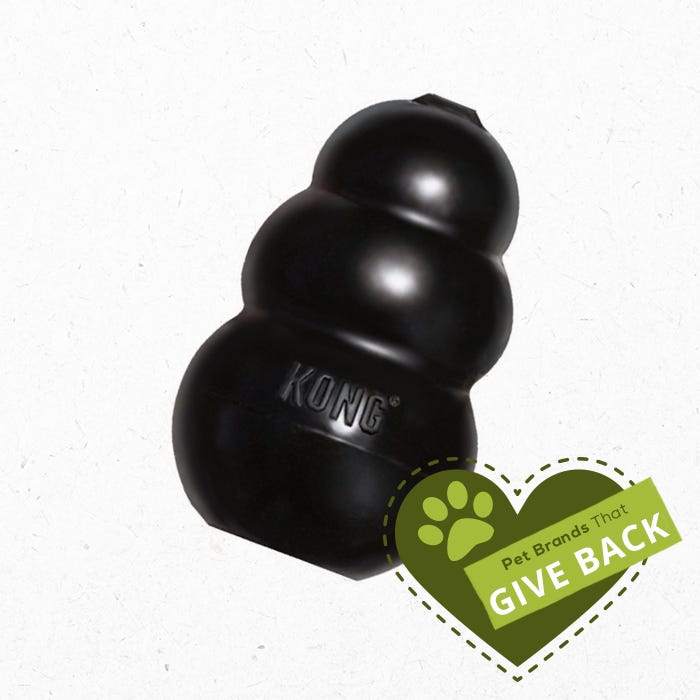 KONG is one of the most well-known and respected brands in dog toys. Starting with the original rubber KONG toy, which is still a best-seller, and Committed to innovation, good design, and delivering a quality product that lasts, KONG is definitely one of my favourite brands to recommend for all dogs.
What they do for charity
KONG donates to a number of pet partners upon request, which include shelters, rescues, and pet-related nonprofits; dog, military, and police K-9 organizations; and natural disasters and emergencies. They donate treats and toys to these groups, as well as volunteering time or serving on the front lines when necessary, such as when a natural disaster strikes. KONG also runs KONG cares, which offers slightly imperfect KONG toys at a discounted rate for pet charities to purchase for their use. Pet shelters can request brochure support material or adoption kits from KONG for their organization's use.
4. Royal Canin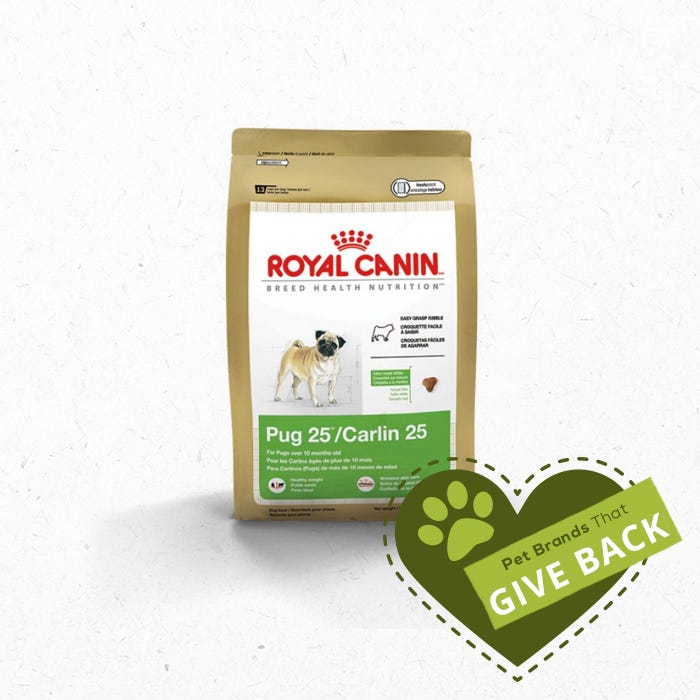 Royal Canin has breed and condition specific nutrition in mind with their myriad of available dog and cat foods. Their name precedes them as a trusted brand in pet food, solidified by their widespread support by the veterinary community.
What they do for charity
Royal Canin is a huge supporter of rescues throughout Canada and the United States, and their sheer company size makes their impact a big one. Royal Canin donates a substantial amount of food to shelters, using Rescue Bank in the United States to ensure even distribution at shelters across the country. They also accept donation requests for charitable events or fundraisers. Aside from these monetary and in-kind donations, since 2009 Royal Canin has also been involved in an annual community service project. Some of the community service projects have included rebuilding after Hurricane Katrina, building a park, and renovating an animal shelter.
5. Nutrience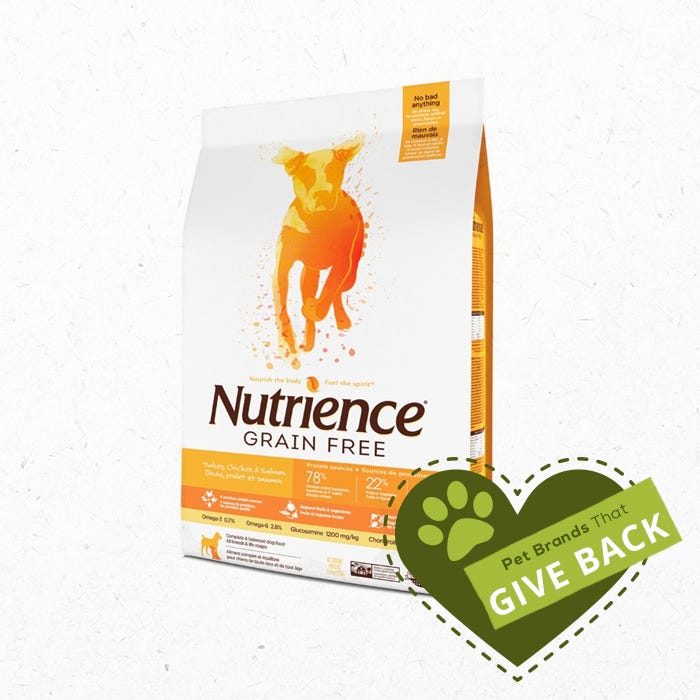 Rolf C. Hagen's Nutrience pet food is a premium food that has always been based on good nutrition and solid family values. In recent years, they've expanded to offer 3 lines of premium pet food, Nutrience Original, Nutrience Natural, and Nutrience Grain-free.
What they do for charity
Nutrience values pet charities and it shows. In 2014 alone, Nutrience donated approximately $150,000 worth of food to shelters and rescues in Canada. They also donate food, treats, toys, and adoption kits for dogs under the ASISTA Foundation, a family-owned non-profit organization that provides and trains service and therapy dogs to work with those who need them, such as children with Autism or individuals with PTSD.
A particularly heartwarming story comes from this past December, when the Nutrience team was able to fund an adoption throught the ASISTA program to give a Montreal man, Craig, the clinical dog therapy he was prescribed. Craig was united with his new service dog Joey, just in time for Christmas. Marketing Coordinator Inhae Koo puts it this way: "With most of us being pet parents ourselves, we really understood that having Joey's support at home would not only improve Craig's quality of life by providing emotional support, but also by allowing him to get the clinical treatment he needed." Thanks for caring, Nutrience!
6. Natural Balance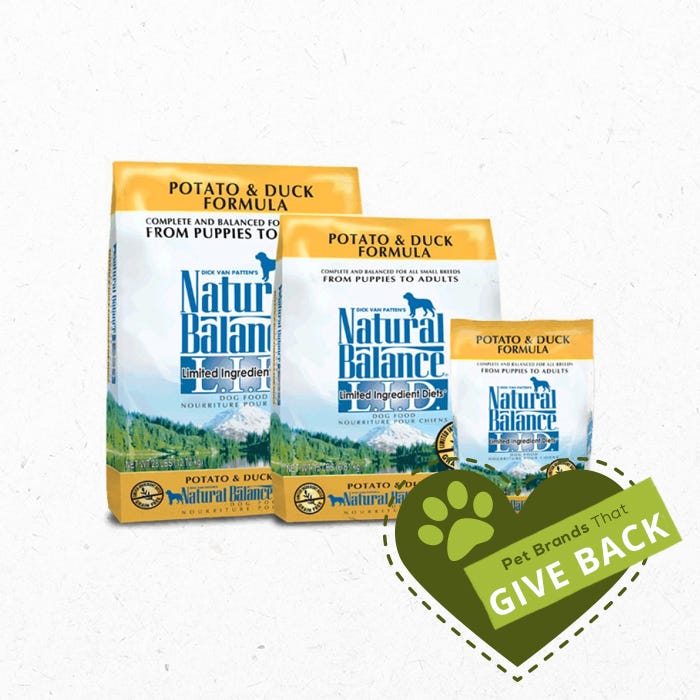 From the beginning, Natural Balance has taken pride in formulating a pet food based on nutrition and scientific principles, not the marketing hype that is pervasive in the pet food industry. Their many dry and canned food varieties offer novel proteins and grains, focusing on whole body wellness for your pet.
What they do for charity
From the very beginning, Natural Balance has held true to their founder, Dick Van Patten's, motto: "Help me help animals". They donate funds to shelters via one-time sponsorships for special events, and through matching retail partner contributions to fundraisers. Also, Natural Balance provides countless in-kind food donations to pet charities and food banks, enabling pets in need to receive quality nutrition. In addition to sponsoring shelters and their events, Natural Balance offers a unique UPC rebate to US shelters, wherein product UPCs can be sent in to Natural Balance to be traded for a set donation amount.
7. Zuke's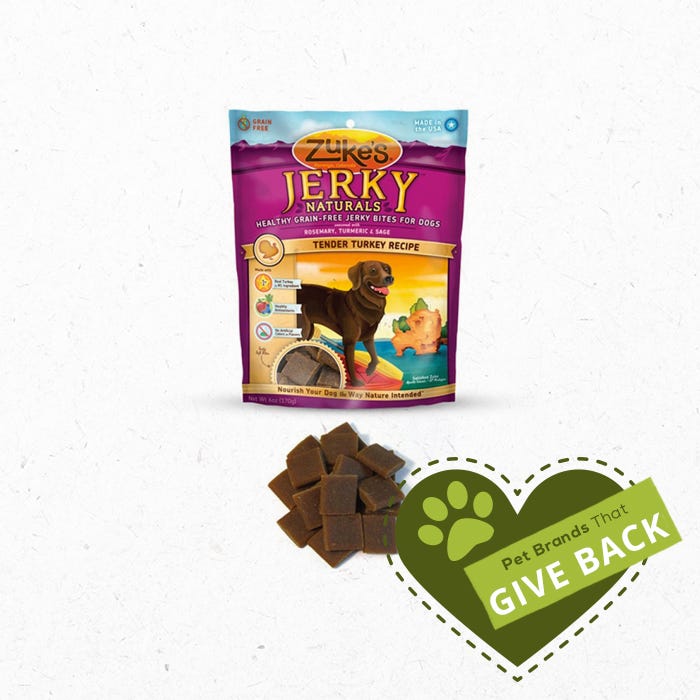 To us, they're the maker of delicious, bite-sized treats for dogs and cats. Made with all natural ingredients in a variety of shapes, sizes, flavours, and designed to support various health needs, Zuke's dog treats are an excellent, low-allergen choice for your dog's snack enjoyment.
What they do for charity
Like many of the brands on our list, Zuke's donates a lot of product to shelters and rescues - thousands of bags of treats every year. Aside from this, Zuke's does something very unique. A portion of every product sale goes to The Dog & Cat Cancer Fund. Every year, Zuke's runs an extensive social media campaign, "Fuel the Love", which raises money for DCCFund, a non-profit organization dedicated to understanding, treating, and preventing canine and feline cancer. For every person who follows @ZukesPets on social media, and tags their "pet loving life" photo with #FuelTheLove, Zuke's donates $5 to The Dog and Cat Cancer Fund. Look out for this year's campaign, running May 1 – June 30, 2015.
8. Nutro & Greenies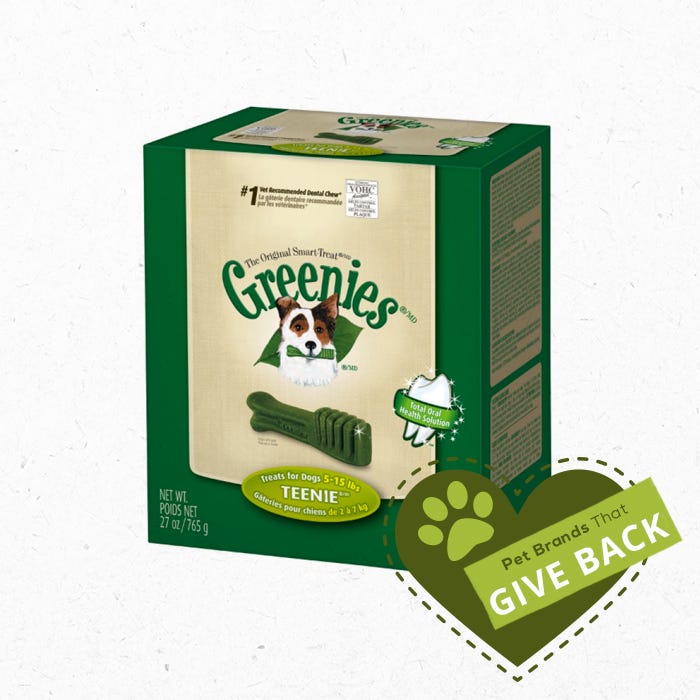 One of the oldest names in premium pet food, the Nutro company has always been about making good nutrition accessible to dogs and cats. With natural ingredients in their wide selection of pet food formulas, Nutro has delivered a consistent quality product since 1926. Greenies, their affiliate dental chew, is a best-selling dental treat and brand nearly all pet families are acquainted with.
What they do for charity
Like many of the brands on our list, Nutro offers donations of free product vouchers for nonprofit events and fundraisers upon request. Nutro also uses Rescue Bank for a fair distribution of donated food to animal rescues across the United States. But aside from the usual food and product donations, Nutro also strongly supports dog parks with their "Room to Run" project. This initiative enhances dog parks by landscaping, adding trees and shade, and adding benches and agility equipment that will benefit pets and pet owners. Park users can work closely with their park manager to apply for grants under this program. Lastly, Nutro supports the Natural Disaster Search Dog Foundation by being its sole food sponsor: providing food for the rescue dogs while at home, during training, and while out on the field during a disaster.
9. Kurgo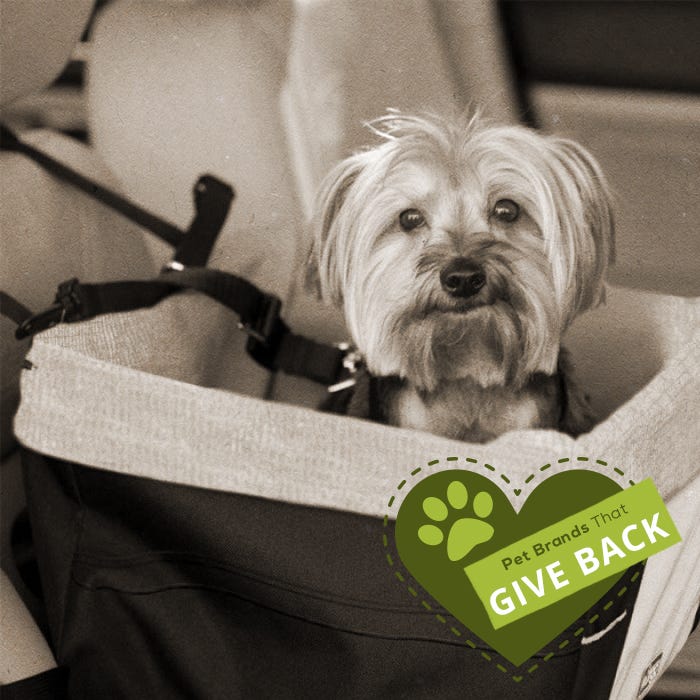 The Kurgo company is responsible for a host of dog equipment and pet accessories for travel, hiking, and pets on the go. Their unique but practical solutions to various pet travel needs are unprecedented in the pet industry. From kennels to vehicle barriers to canine backpacks, Kurgo provides superior craftmanship and thoughtful design in all of its products.
What they do for charity
Kurgo is a generous supporter of many pet charities, mostly dog rescues. Aside from these in-kind gifts, Kurgo also recently created the Kurgo Foundation, which will coordinate and provide aid to organizations working in natural disaster relief. Official launch is forthcoming. Lastly, Kurgo is dedicated to taking care of their local New Hampshire SPCA by donating both employee volunteer time and providing additional support.
10. Thundershirt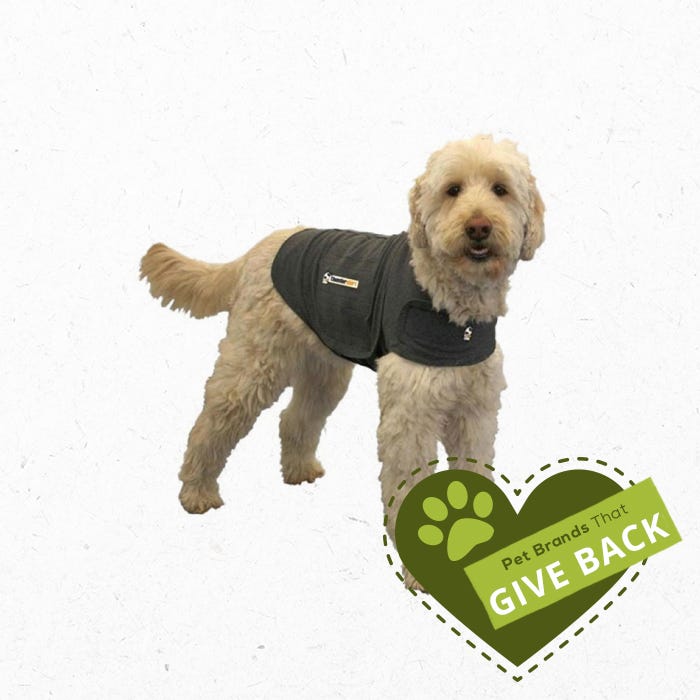 With their namesake product, Thundershirt has become a pet household name when it comes to anxiety relief. As pet owners are focusing on natural alternatives to medicine, Thundershirt provides a desirable, effective solution to many anxious behaviours in dogs and cats.
What they do for charity
Like many of the brands on our list, Thundershirt actively supports shelters and adoption organizations by donating their product directly to shelters every month through the Petfinder Foundation, as well as through online request forms. Thundershirt also holds an annual Charity Dog Wash at their headquarters in Durham, North Carolina. Run by the Thundershirt employees themselves, the dog wash proceeds go exclusively to local non-profits, such as the Coalition to Unchain Dogs, which goes to improving the welfare of dogs chained outdoors. Thundershirt has even tapped into app creation for charity in the past, thought their "ThunderRush" game is no longer available.
11. Petmate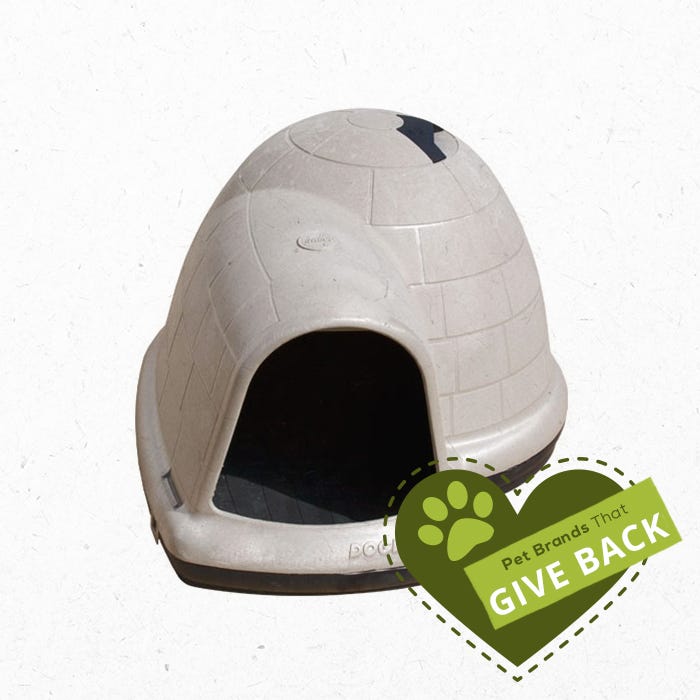 A leader in pet supplies, including portable kennels, feeders and dishes, bedding, and more, Petmate is known for quality, durability, and superior function. One of their more enduring products has to be their Indigo dog house, which is igloo-shaped with excellent insulation and weather protection – perfect for the varied Canadian weather! Other associated brands you might recognize are bamboo, aspen pet, booda, and Fat Cat.
What they do for charity
When they aren't making and promoting their useful products, Petmate also supports Pilots and Paws, which helps pets from overcrowded shelters relocate to other rescues committed to finding them a home. The program saves pet lives from euthanization due to space concerns every year.
Conclusion
You know that your shopping choices, whatever they may be, have a ripple effect. Why not make that ripple effect a good one? These pet product brands get behind the causes that you care about, and they're making a difference. Be a part of that difference by choosing your pet products with care.
Do you know any charitable pet brands that we missed? What's your favourite charity-minded brand?
---