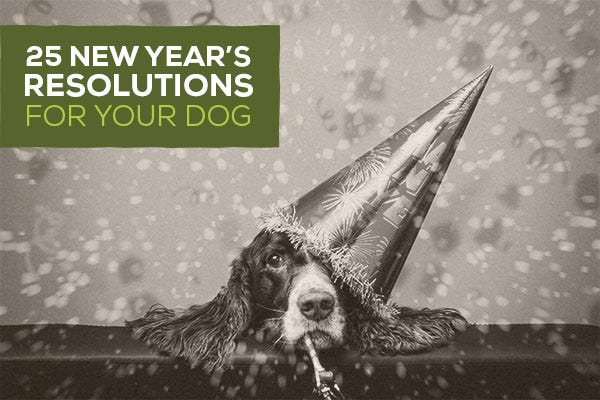 Rather than just improving yourself this year, try improving your pet's quality of life with these 25 tips. Choose one, choose ten, choose all twenty-five of these goals to implement this year and let your dog reap the benefits.
Here are 25 New Year's Resolutions for your dog:
Spend More Quality Time
1. It's called a pet for a reason. Stroke your pet for at least 15 minutes a day. It can be while you're lying in bed, watching TV, or just meditating on the day.
2. Greet your dog every time you come home.
3. Talk with your dog every day. He might not know what you are saying, but he'll love how you say it.
4. Go to a dog play group or club together.
5. Take up a new hobby together. Whether it's hiking, kayaking, yoga, bird-watching, or just hanging out on the back porch, find something you can enjoy alongside your furry best friend.
Eat Better
6. Take a good look at your dog food ingredient list. Read our 11 Red Flags of Poor Quality Dog or Cat Foods. If your dog food contains any of these poor quality markers, upgrade to a healthier food.
7. Does your dog deal with chronic health symptoms? Find a nutritional supplement, natural remedy, or food that is known to help. While dog nutritional supplements don't always get rid of health symptoms, as many have underlying causes or conditions, they can provide symptom relief.
8. Stop feeding table scraps. Unless they happen to be healthy, whole food options, of course. Cut out feeding junk food scraps and processed table food to your dog. In general, our food and portions are too calorie-rich for dogs.
9. Try to add variety to your dog's diet. While nutritionally your commercial dog food may be considered complete, it can still cause certain vitamin or mineral deficiencies if fed exclusively to your pet. Use treats to add balance and switch up your dog food flavour every month or so.
10. While what your dog eats is important, so is what he drinks. Most dogs and cats are chronically dehydrated. Feeding raw fruits and vegetables is one way to increase fluid intake. You can also try offering your dog low sodium chicken or beef broth mixed with water. Or, on a hot day, try offering your dog ice cubes instead.
Exercise Often
11. Take your dog for a walk every day. Already doing that? Add on 15 minutes or try two walks instead.
12. Get a laser pointer toy. Watch your dog go crazy. Already have one? Use it!
13. Find an off-leash area or dog park and let your dog just run. Extra points if you bring along a canine friend for her to run with.
14. Go for a jog or bike ride together.
15. Tug isn't just a game. A good game of tug can provide a healthy muscle workout for you and your dog. More points for combining it with a rousing game of keep away.
Stress Less
16 Does your pet regularly deal with stress? There are plenty of sedative-free dog anxiety treatments out there. Try a Thundershirt. Herbal options such as those containing passion flower, chamomile, or other natural calming aids can also be effective.
17. Dogs thrive on routine. Try to keep your dog's daily routine as consistent as possible. Simple things such as on-time meals and regular cuddle time can make all the difference to your dog.
18. Does a bad habit or condition come between you and your pet? Make an effort to work on it this year. Whether it's shedding, digging, barking, or something else, research and implement ways to reduce it.
19. Make sure you are taking care of your stress levels. Our pets feed off of our emotional state, so if we are constantly stressed, it will start to affect our dogs, too. Do what you need to do to take care of your stress – whether it's a bubble bath, listening to your favourite music, or simply more cuddle time with your pet.
20. Take the time to play with your dog every day for at least 15 minutes. This provides mind and body stimulation as well as essential social interaction. All of those things are key for reducing anxiety.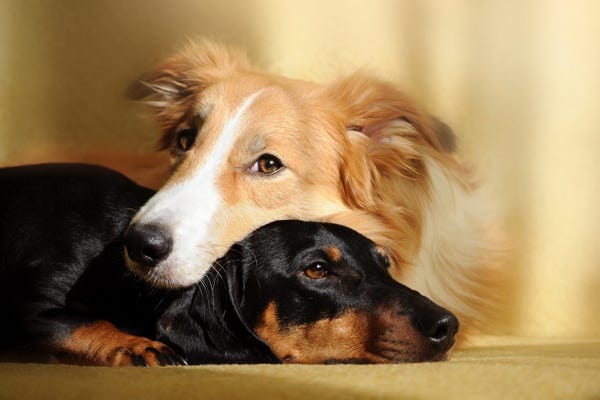 Try New Things
21. Feed your dog a new food every week. A new fruit, a new veggie, or that biscuit recipe you pinned 3 months ago on Pinterest.
22. Go to a dog training class together.
23. Take a trip somewhere new. Whether it's a new camping location or just a trip to a new dog park, make a day of it!
24. Teach your dog a new trick or command. Or have fun with it and play a new game together. Learning keeps the mind active and healthy into old age. Get into the habit of challenging your pet's mind whether your dog is a puppy or a senior.
25. Go to a community event together. Make sure you double check that pets are allowed before bringing Bruno out, though!
What are you going to focus on with your pet this year?
---