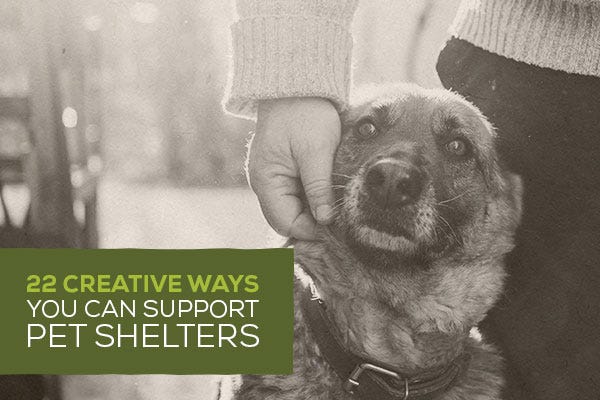 There are countless pet shelters and rescues out there on the front lines, making sure that pets receive proper treatment, lost pets find their homes, and abandoned, surrendered, and mistreated pets match up with loving families. Like many charities, pet rescues are often dealing with limited budgets, staff, and volunteers.
Here are some creative ways you can help pet rescues in your area – and they're not just about writing a cheque. While donations are always welcome, sometimes there are even better ways for you to help.
1. Share on Social Media
Do you proudly support a certain animal rescue organization? Help them raise awareness and spread their message by sharing their posts, events, and news about their charity on your Facebook or Twitter account. Even interacting with pet rescue posts through liking and commenting helps. Most pet rescues don't have large marketing budgets, so they rely on your word of mouth.
2. Donate Your Time
Donating your time can be even more helpful than money in some cases. Pets require a lot of care. Feeding, watering, walks, cage cleaning, and interaction needs to happen daily (or more often), and that doesn't include weekly or monthly care such as baths and nail clippings. Ask your local shelter about how you can help out, even if it's just an hour or two a week. Do it alone for some recharge time or make it a family event so that you can teach your kids about social responsibility.
3. Foster a Pet
If you feel as though your home could handle another pet, why not consider fostering? This commitment is not a forever one, but it can help out rescues who need to socialize a pet, need temporary housing for pets, or who rely solely on fosters for pet care. Do you love a challenge? Pet shelters occasionally need help training pets with behaviour problems. Particularly if you are a trainer or have experience, you may be an essential asset as a foster family for your local shelter.
4. Fundraise
While you may not have a lot of extra funds to be donating, but you want to help local rescues or shelters, fundraising may be for you. You likely are a part of a group, school, club, organization, or circle of friends that could band together for a certain cause. Choose to fundraise for a shelter to use your influence and initiative to benefit them in ways your donation alone could not. Try something fun and creative, such as a dog treat bake sale or a dog walking service by donation.
5. Donate Supplies
Pet shelters go through a lot of supplies: whether it's cleaning supplies, pet food and treats, or other pet supplies. To make sure that your donation is helpful, call the organization and ask them what they need. Sometimes shelters will accept clean, used items as well. Ask and find out!
6. Go Through Your House
Like many charities, pet rescues can be very resourceful with supplies. While you might not find a use for those old bed sheets, towels, or even previously-loved pet supplies, your pet shelter might. Not only are you clearing up clutter in your house, but you are helping pets, too.
7. Spay or Neuter Your Pets
Spaying and neutering pets is a socially responsible way to decrease the amount of pets admitted to shelters.
8. Shop Responsibly
Buy from retailers that you know are active in donating their time, floor space, and money to pet shelters. Money spent in a retailer that supports pet shelters means more money goes to pet shelters.
9. Follow Local Bylaws
Register your pet. This is the law in most municipalities, but it also helps lost pets find their homes if they ever get out. That means fewer pets end up in shelters. Most pet licenses cost a nominal fee for the assurance they provide if your pet is lost.
10. Practice Safe Pet Care
Be proactive in your pet education. Learn training techniques and how to solve pet problems, so that you don't get to the desperation of surrendering. When you find a technique that works, pass it on. Talk to your friends about their pet problems and make suggestions to help them or point them in the right direction.
11. Don't Let Your Pet Free Roam
Unless, of course, you are in an off-leash dog park. Free roaming pets are more likely to be lost pets, which may ultimately be shelter pets. Free roaming pets that are not spayed or neutered – a double-whammy – contribute to pet overpopulation. Pets that free-roam also can do significant property damage, as well as terrorize local wildlife populations, particularly in the case of cats. And, free-roaming is known to be more hazardous to your pet, even reducing lifespans.
12. Vote in Online Campaigns
There are many options for online grant campaigns and corporate funding nowadays. See if your pet shelter has tried for one, or if they aren't, maybe you could suggest one to them. These campaigns use money from generous benefactors, mostly businesses, to fund agreeable causes, such as needs within a pet rescue. Some campaigns accept nominations, so you could could play a pivotal role by nominating a favourite pet rescue. Here is a list of corporate funding programs from Charity Village.
13. Participate in Shelter Events
Participating in shelter events is a good way to show your support for rescues. While donations and fundraising are necessary for these events, your presence and voice to the cause is indispensable. So go to pet shelter events, tell your friends about them, and post some pictures of you there to social media. Get the word out and show everyone what you care about.
14. Clip Coupons
Do you love a good deal? If you're an avid couponer, why not take some time to clip some pet supplies coupons for a pet shelter to use? Make sure that you call your pet shelter ahead of time to find out what brands and products they might use coupons for. Then, clip and collect to your heart's delight (and your shelter's benefit)!
15. Know the Pets in Your Shelter
Know what pets are in your local shelter, both found pets and surrendered pets. You never know when you might see a pet there that you know. Also, if you know what pets your local pet rescue has, you can always direct a friend who wants a particular pet there. Many pet shelters have blogs, or make it a habit to visit the shelter frequently. You can always stop to say hello to the pets!
16. Be a Pet Neighborhood Watcher
If you suspect animal abuse in your area, contact the local authorities. Whether it's a dog that is tied up day and night or a pet in a hot vehicle, let your voice be heard against animal cruelty.
17. Encourage
Call your local pet shelter to encourage them, or drop them a message on social media. When you see those who are working or volunteering for a shelter, show them your appreciation. Words of gratitude and appreciation can often go farther than you imagine. Or, show a little appreciation by baking up some cookies or sending a special gift to employees or volunteers – just because.
18. Use Your Skills
Handy Man? Grab a hammer and build a new cat cage. Photographer? Take pictures. Graphic designer? Design a new logo or create some images for their website. Love baking? Bake some cookies for the pets (and some for the humans of course). Whatever skills you have, ask your local shelter how you can best help them with your abilities. Just make sure to always ask before doing something. You don't want to waste your time (or theirs).
19. Enter Contests
Enter pet contests on behalf of a pet shelter. Alternatively, you can fill out the entry with your information and donate your winnings to a local rescue.
20. Buy Charity Merchandise
Many shelters and rescue groups have merchandise available for you to buy to show your support, such as T-Shirts and vehicle decals. Buying these products does double duty: you advertise your local shelter organization and the profit made on merchandise goes to fund it, too. These items can also make great gifts for pet lovers.
21. Donate
Even if it's only small amounts. Donating money is a great way for you to give to your local pet shelter. Even a few dollars add up over time. Find a friend that will match your donation. Or start a crowdfunding page for a particular need for your local pet rescue. Ask if a local pet rescue is a registered charity. You may be able to receive a tax receipt for your donation.
22. Share This Blog
If you like this blog or found it informative, share it! Let others learn ways that there are so many ways that they can help out their local shelter.

Do you have a suggestion to help pet shelters that we missed? Please comment!
---