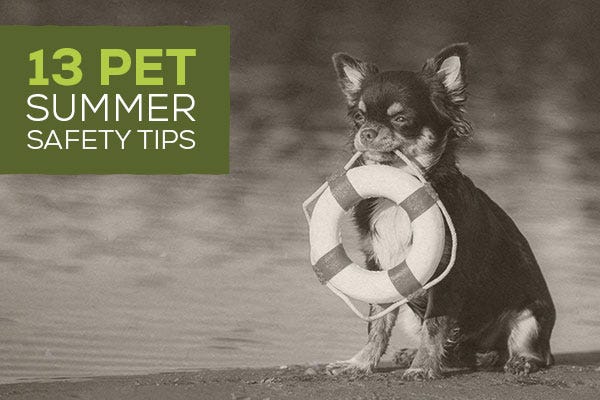 The summer is such a fun time for pets and people alike. Don't forget that summer poses its own hazards as well. Follow these 13 pet summer safety tips for a healthy, and enjoyable summer with your pet.
Summer Pet Safety Tips
1. Hot dogs are meant for BBQ's
On a hot summer day the temperature in a your car is a lot hotter than outside. Even when it's only 21 degrees Celsius outside, it's too hot for your pet to be left in the car.
2. Natural doesn't mean nice
Looking to keep cats and dogs out of your garden? Some natural remedies can be harmful to pets. Research safe options.
3. Sun isn't fun for Fido
Did you know dogs can get sunburns, too? Use pet-formulated sunscreen or a natural solution, such as Pet-Tek organic virgin coconut oil, around your dog's face for best protection.
4. Sometimes DIY bites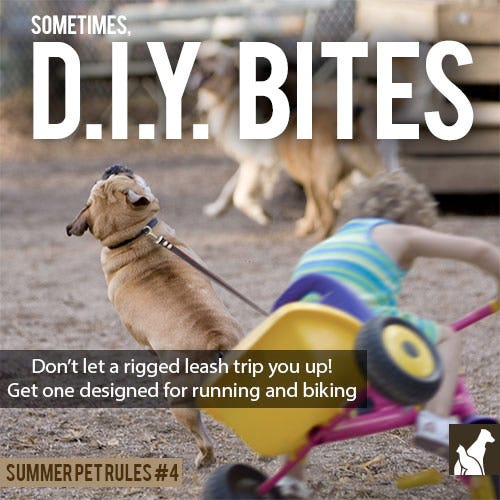 Running or biking with your pet? Be safe with a hands-free leash designed for the job, such as Clix Hands Free Dog Walker. Some pet DIY should be left to the pros.
5. Be pro H2O
If you're going to be outside in the heat with your dog for longer than 30 minutes, be sure to bring along a pet water bottle or keep a travel dish handy that you can fill.
6. Noon is too hot for a trot
Dogs can overheat quickly in hot summer weather. If possible, avoid walking your dog in the heat of the day between 11am and 2pm.
7. Plants are perilous
When choosing plants for your garden, be sure to pick varieties that are safe for pets. Sweetpea, bleeding heart, and foxglove are just some plants that are toxic to your pet.
8. Squirrels are your worst enemy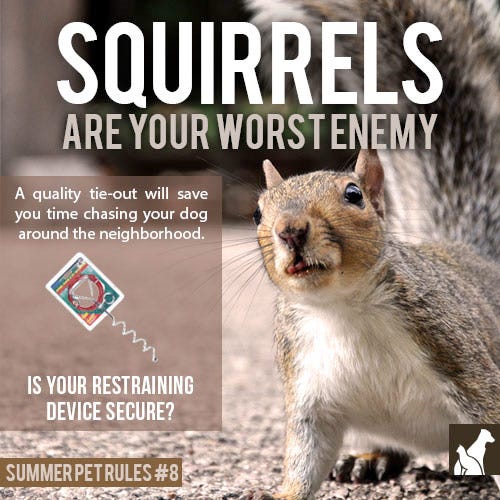 Remember: Your dog is only as secure as his tie-out stake. Invest in a quality stake and avoid chasing your dog around the neighborhood.
9. Be cool and fan your friends
Leaving your pet in a hot house? If you don't have air conditioning, consider getting a fan for your pet's heat relief during the day.
10. Mosquitoes love man's best friend, too
Protect your pet against mosquitoes and biting insects. Use a safe pet-formulated spray when you go out, such as the all-natural EQyss Canadian Marigold Spray.
11. Fry eggs, not paws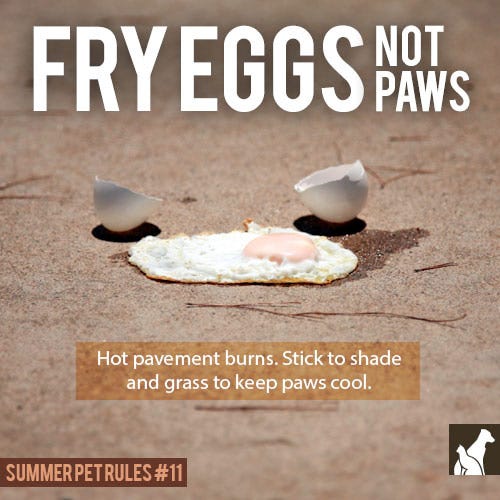 Walking your pet in the hot summer weather? For your dog's comfort, try to keep your pet clear of pavement or asphalt. If possible, let your dog walk on grass or in shade.
12. Travel au naturel
Traveling with an anxious pet? Try natural remedies to treat pet anxiety, whether it's due to travel or separation stress. And say goodbye to summer pet anxiety.
13. Take a hike, with caution
Going camping or hiking with your pet? Keep your pet out of long grasses and bushes, and check regularly for ticks. Use a preventative treatment.
Do you have any summer pet safety tips to add to our list?
---