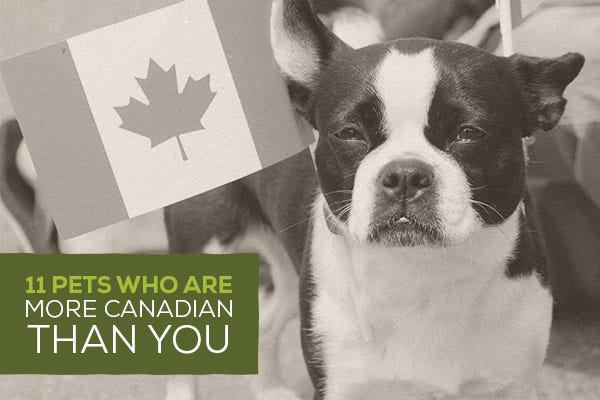 In honour of our country's birthday, we'd love to share something very Canadian. We love our country, there's no doubt aboot it. We show our love of poutine, beavers, and everything red and white, but our love pales to these 11 shamelessly Canadian pets. You're welcome, Canada. Bask in your furry glory.
11 Crazy Canadian Cats and Canines that are more patriotic than you:
1. Mounty Mutt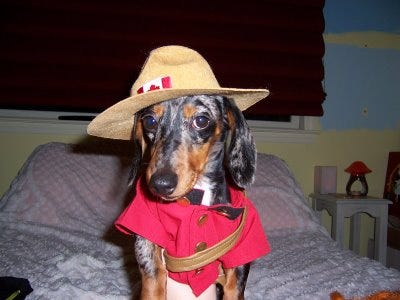 Okay, so more of a mounty and less of a mutt, this patriotic wiener couldn't get any more Canadian unless he were an actual mounty. And then, he wouldn't be nearly as cute.
Canadian-ness:



2. Poodle Patriot
This poodle had to endure possible hours of grooming for this fabulous look. Have you ever cut or dyed your hair for your country? Thought so.
Canadian-ness:



3. Moose Cat
Why, yes, Moose-Cat is Canadian. However did you know?
Canadian-ness:


4. All Canadian Canine
Yes that's a Newfoundland dog. Yes, it's lying in a pile of Canadian snow. Beside an igloo. Why am I craving maple syrup all of a sudden?
Canadian-ness:




5. Cold Weather Friends
This Canadian Eskimo sled dog being hugged by a polar bear.
Canadian-ness:



6. Go, Go Goose
A pug dog riding a Canada Goose. The safe way.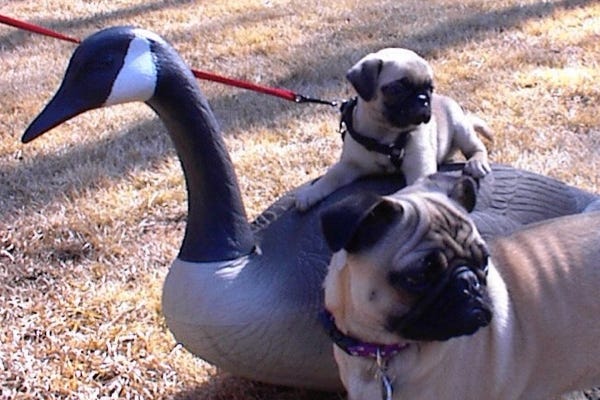 Canadian-ness:


7. Poutine Puss
This cat who is going to steal your poutine. All cats have odd tastes. Canadian cat tastes are distinctly Canadian.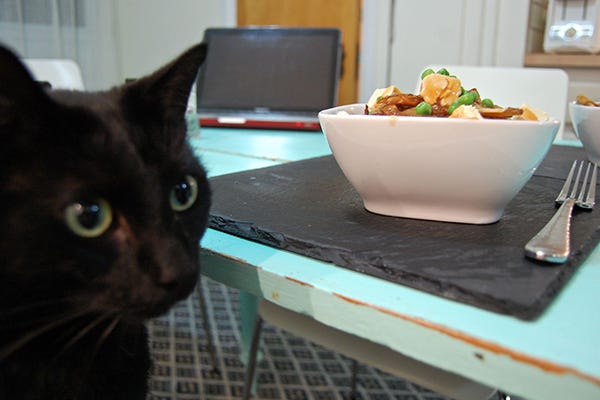 Canadian-ness:


8. Hockey Hound
This dog plays hockey. And even scores a few goals! How many shots can you get on net without opposable thumbs?
Canadian-ness:



9. Patriotic Parrot
Canadians take their Tim Horton's coffee seriously. This parrot is no exception.
Canadian-ness:


10. Beaver Buddy
This dog (Bella) who is mourning his beaver best friend (Beavis). Aww.
Canadian-ness:



11. Canada Cat
Could they fit any more Canadian into this photo? This suave cat (Abbie) doesn't even look phased that she's in this Mounty outfit. Even Canadian cats surrounded by this much Canada must be aggreeable and polite.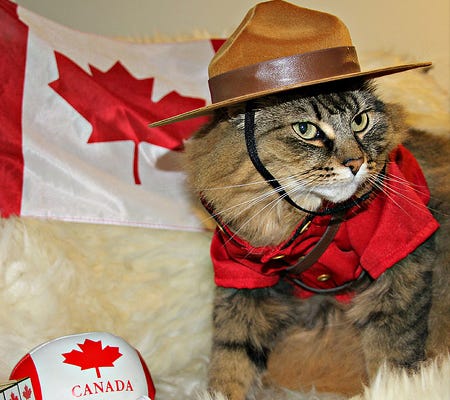 Photo Credit: Sharon
Canadian-ness:





---