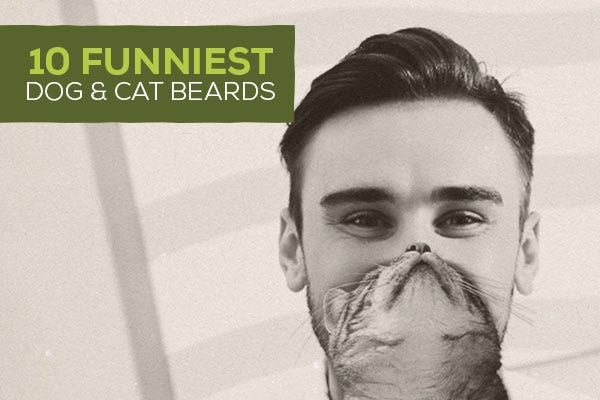 It's Movember*, after all. So we're celebrating by showing you some of the funniest dog and cat beards on the web.
Be sure to tell us who you think wins for best beard...dogs or cats?
*We realize what Movember is all about. It's no laughing matter. So, please support prostate and testicular cancer research.
1. Surprise!
This specimen has been caught unawares.
2. White Curls
Notice the shift from short fuzzy wisps to longer, wavy curls. Magnificent. You can tell this one's been groomed recently.
3. Fu Cat-Chu
How does he get those whiskers so gently curved, so thin? He's a Fu Cat-Chu master.
4. Fun and Fancy Feast
Crazy cat ladies may be known for their eccentricities. Usually these don't include facial hair like this, but who are we to discriminate?
5. Coy Canine
If sexy were a dog beard, this one wins.
6. Sophisti-cute
What can make you look both cultured and cuddly? A cat beard like this one.
7. Rawr
Hide your Scooby Snacks and peanut butter.
8. Snooty
The one accessory that will always make you look stuck-up is none other than the king of holier-than-thou creatures.
9. Morose Cat
Morose Cat is morose. Until he gets his belly rubs.
10. Hairy Scary
I'm not sure what I should be more afraid of - this creature or what's scaring her.
Who gets your vote for best dog or cat beard?
---